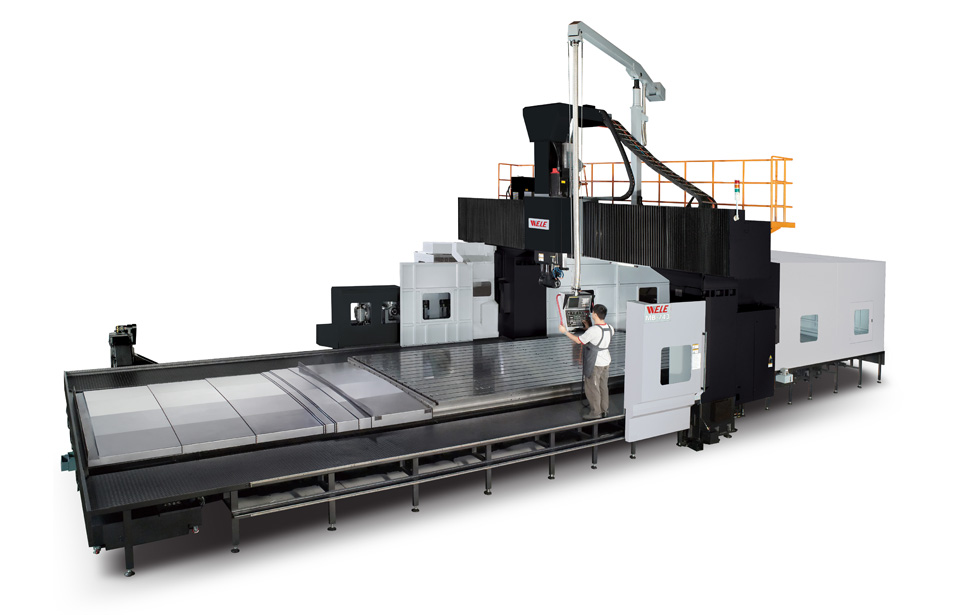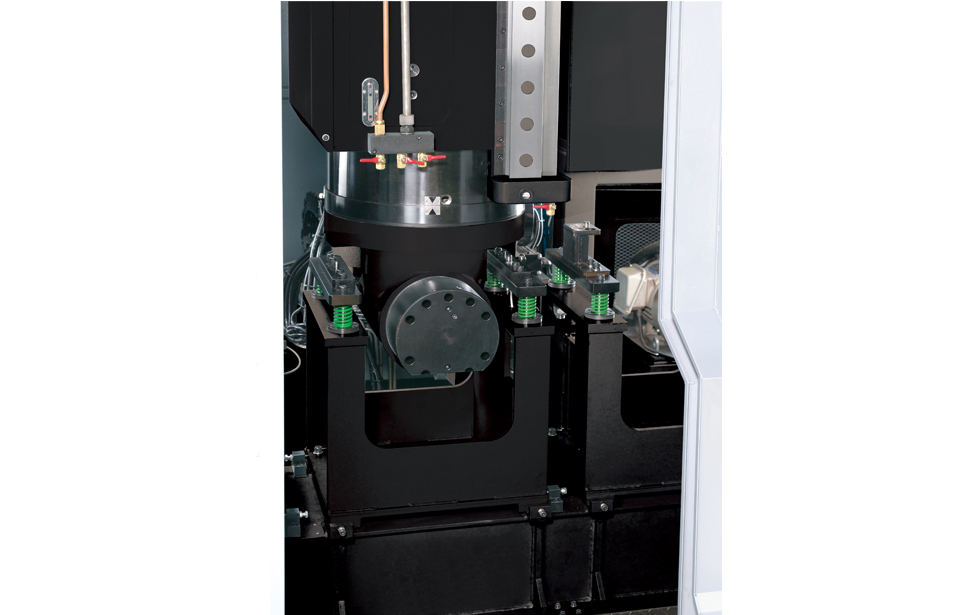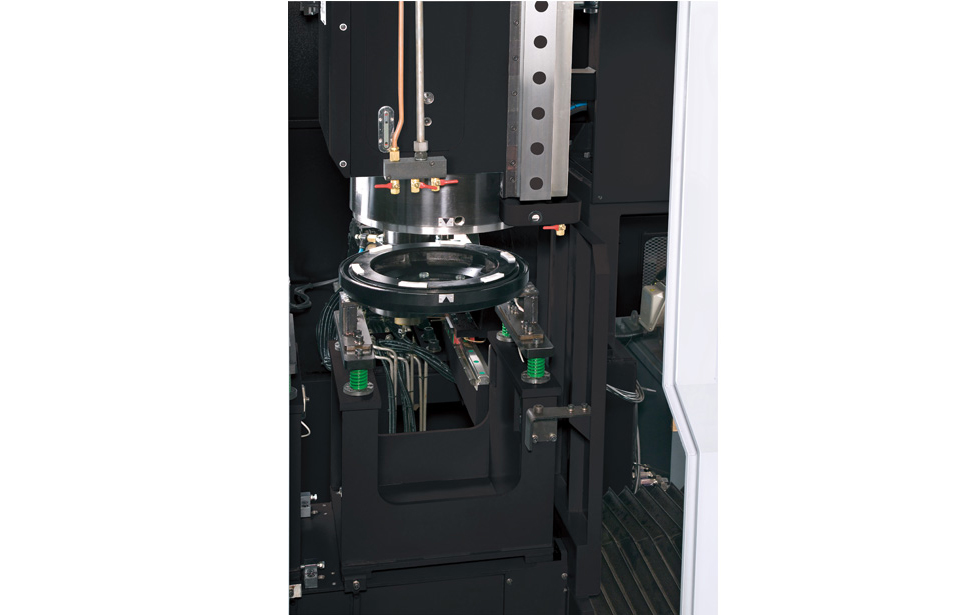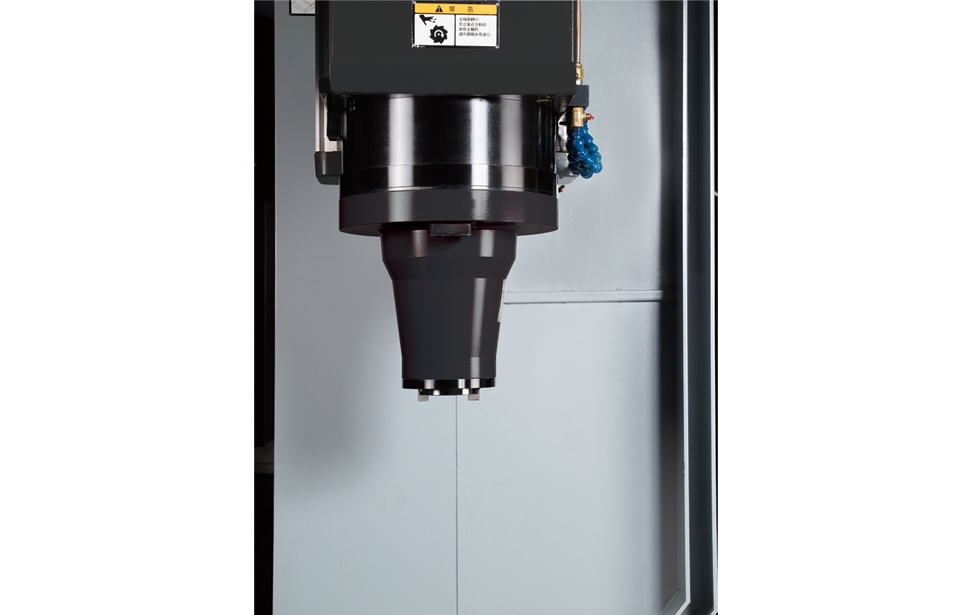 MB Series
MB Series
Full automatic Head Exchange / Head Storage / Auto tool exchange in vertical & horizontal / 5 sides machining function.
Z travel with 1000mm as STD; Z travel from 1200mm thru 1400mm available on all MB series.
Automatic multi head exchange system and storage with tool exchange in vertical and horizontal.
All series with linear scale feedback system on X, Y axes; Z axis (OPT).
Extension head, 30 degree head, and universal head optional available.
Specification/ Machine model
Unit
MB-318
MB-418
X axis travel
mm (in)
3060 (120.5)
4060 (159.8)
Y axis travel
mm (in)
2550 (100.4)
2550 (100.4)
Z axis travel
mm (in)
1000 (39.4)
1000 (39.4)
Table dimension (X direction)
mm (in)
3000 (118.1)
4000 (157.5)
Table dimension (Y direction)
mm (in)
1500 (59.1)
1500 (59.1)
Table loading
kg (lb)
10000 (22046)
12000 (26455)
Spindle motor power
kW (HP)
22/26 (30/35)
Spindle speed
rpm
10-6000
10-6000
Spindle taper
BT#50 (ISO 50)
Rapid feedrate - X axis
mm(in)/min
24000 (944.9)
20000 (787.4)
Rapid feedrate - Y axis
mm(in)/min
15000 (590.6)
Rapid feedrate - Z axis
mm(in)/min
12000 (472.4)
Cutting federate
mm(in)/min
1-10000 (0.04-393.7)
Capacity of tool magazine
pcs
60
Max. diameter of tool / Adjacent pocket empty
mm (in)
127/215 (5.0/8.5)
Max. length of tool
mm (in)
400 (15.7)
Max. weight of tool
kg (lb)
20 (44)
Positioning accuracy (JIS 6338)
mm (in)
±0.015 (±0.006)
Positioning accuracy (VDI/DGQ 3441)
mm (in)
P≦0.025(P≦0.0010)
P≦0.030 (P≦0.0012)
Repeatibility accuracy (JIS 6338)
mm (in)
±0.003 (±0.0001)
Repeatibility accuracy (VDI/DGQ 3441)
mm (in)
Ps≦0.020(Ps≦0.0008)
Ps≦0.025(Ps≦0.0010)
Length of the machine
mm (in)
8300 (326.8)
10250 (403.5)
Width of the machine
mm (in)
6055 (238.4)
6055 (238.4)
Height of the machine
mm (in)
5850 (230.3)
5850 (230.3)
Specification/ Machine model
Unit
MB-425
MB-525
MB-625
MB-725
X axis travel
mm (in)
4060 (159.8)
5060 (199.2)
6060 (238.6)
7060 (278)
Y axis travel
mm (in)
3200 (126)
3200 (126)
3200 (126)
3200 (126)
Z axis travel
mm (in)
1000 (39.4)
1000 (39.4)
1000 (39.4)
1000 (39.4)
From spindle nose to the centerline of table
mm (in)
200-1200 (7.9-47.2)
Table dimension (X direction)
mm (in)
4000 (157.5)
5000 (196.9)
6000 (236.2)
6000 (236.2)
Table dimension (Y direction)
mm (in)
2000 (78.7)
2000 (78.7)
2000 (78.7)
2000 (78.7)
Table loading
kg (lb)
15000 (33069)
18000 (39683)
20000 (44092)
20000 (44092)
Spindle motor power
kW (HP)
22/26 (30/35)
Spindle speed
rpm
10-6000
10-6000
10-6000
10-6000
Spindle taper
BT#50 (ISO 50)
Rapid feedrate - X axis
mm(in)/min
18000 (708.7)
12500 (492.1)
9000 (354.3)
6000 (236.2)
Rapid feedrate - Y axis
mm(in)/min
20000 (787.4)
Rapid feedrate - V axis
mm(in)/min
12000 (472.4)
Cutting federate
mm(in)/min
1-10000 (0.04-393.7)
Capacity of tool magazine
pcs
60
Max. diameter of tool / Adjacent pocket empty
mm (in)
127/215 (5.0/8.5)
Max. length of tool
mm (in)
400 (15.7)
Max. weight of tool
kg (lb)
20 (44)
Positioning accuracy (JIS 6338)
mm (in)
±0.015 (±0.006)
Positioning accuracy (VDI/DGQ 3441)
mm (in)
P≦0.030 (P≦0.0012)
P≦0.040 (P≦0.0016)
P≦0.050 (P≦0.0020)
P≦0.060 (P≦0.0024)
Repeatibility accuracy (JIS 6338)
mm (in)
±0.003 (±0.0001)
Repeatibility accuracy (VDI/DGQ 3441)
mm (in)
Ps≦0.025 (Ps≦0.0010)
Ps≦0.030 (Ps≦0.0012)
Ps≦0.035 (Ps≦0.0014)
Ps≦0.045 (Ps≦0.0018)
Length of the machine
mm (in)
10590 (416.9)
12910 (508.3)
15000 (590.6)
16220 (638.6)
Width of the machine
mm (in)
6755 (265.9)
6755 (265.9)
6755 (265.9)
6755 (265.9)
Height of the machine
mm (in)
5850 (230.3)
5850 (230.3)
5850 (230.3)
5850 (230.3)
Weight of the machine
kg (lb)
41000 (90390)
46000 (101413)
51000 (112436)
56000 (123459)
Specification/ Machine model
Unit
MB-432
MB-532
MB-632
MB-732
X axis travel
mm (in)
4060 (159.8)
5060 (199.2)
6060 (238.6)
7060 (278)
Y axis travel
mm (in)
3900 (153.5)
3900 (153.5)
3900 (153.5)
3900 (153.5)
Z axis travel
mm (in)
1000 (39.4)
1000 (39.4)
1000 (39.4)
1000 (39.4)
From spindle nose to the centerline of table
mm (in)
200-1200 (7.9-47.2)
Table dimension (X direction)
mm (in)
4000 (157.5)
5000 (196.9)
6000 (236.2)
6000 (236.2)
Table dimension (Y direction)
mm (in)
2400 (94.5)
2400 (94.5)
2400 (94.5)
2400 (94.5)
Table loading
kg (lb)
15000 (33069)
18000 (39683)
20000 (44092)
20000 (44092)
Spindle motor power
kW (HP)
22/26 (30/35)
Spindle speed
rpm
6000
Spindle taper
BT#50 (ISO 50)
Rapid feedrate - X axis
mm(in)/min
18000 (708.7)
12500 (492.1)
9000 (354.3)
6000 (236.2)
Rapid feedrate - Y axis
mm(in)/min
15000 (590.6)
Rapid feedrate - Z axis
mm(in)/min
12000 (472.4)
Cutting federate
mm(in)/min
1-10000 (0.04-393.7)
Capacity of tool magazine
pcs
60
Max. diameter of tool / Adjacent pocket empty
mm (in)
127/215 (5.0/8.5)
Max. length of tool
mm (in)
400 (15.7)
Max. weight of tool
kg (lb)
20 (44)
Positioning accuracy (JIS 6338)
mm (in)
±0.015 (±0.006)
Positioning accuracy (VDI/DGQ 3441)
mm (in)
P≦0.030 (P≦0.0012)
P≦0.040 (P≦0.0016)
P≦0.050 (P≦0.0020)
P≦0.060 (P≦0.0024)
Repeatibility accuracy (JIS 6338)
mm (in)
±0.003 (±0.0001)
Repeatibility accuracy (VDI/DGQ 3441)
mm (in)
Ps≦0.0010
Ps≦0.0012
Ps≦0.0014
Ps≦0.0018
Length of the machine
mm (in)
10590 (416.9)
12660 (498.4)
14750 (580.7)
15970 (628.7)
Width of the machine
mm (in)
7455 (293.5)
7455 (293.5)
7455 (293.5)
7455 (293.5)
Height of the machine
mm (in)
5850 (230.3)
5850 (230.3)
5850 (230.3)
5850 (230.3)
Weight of the machine
kg (lb)
42000 (92594)
48000 (105822)
53000 (116845)
59000 (130073)