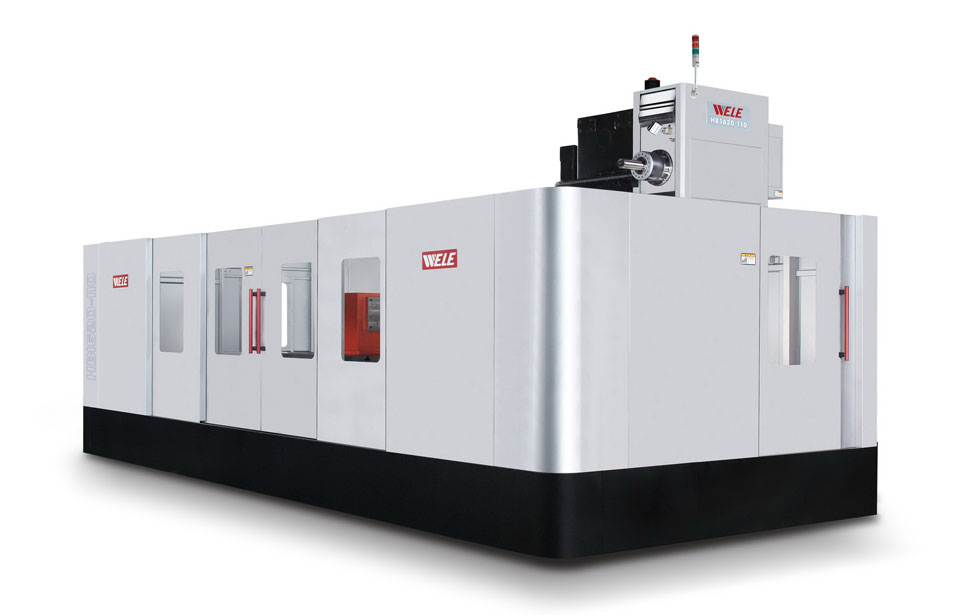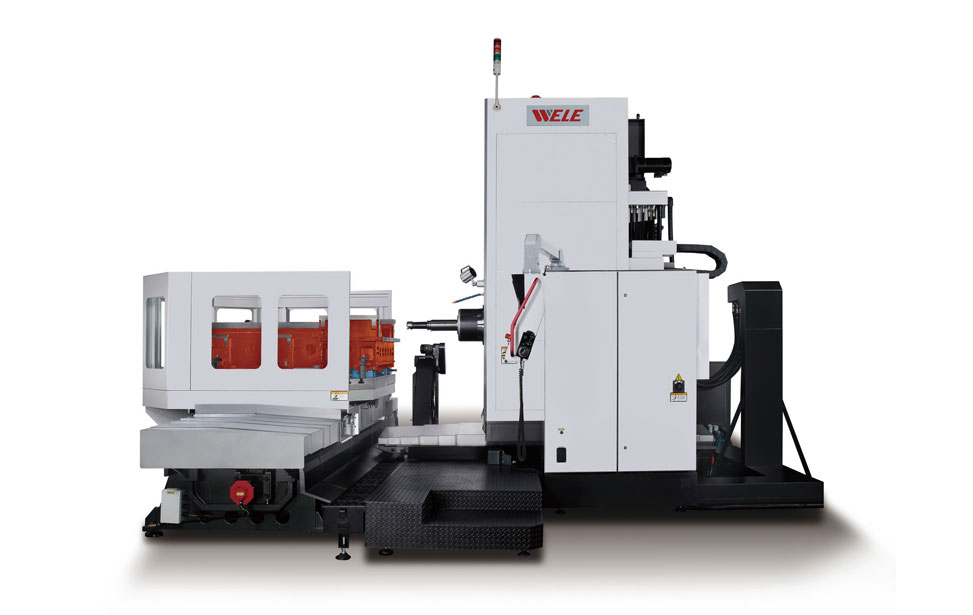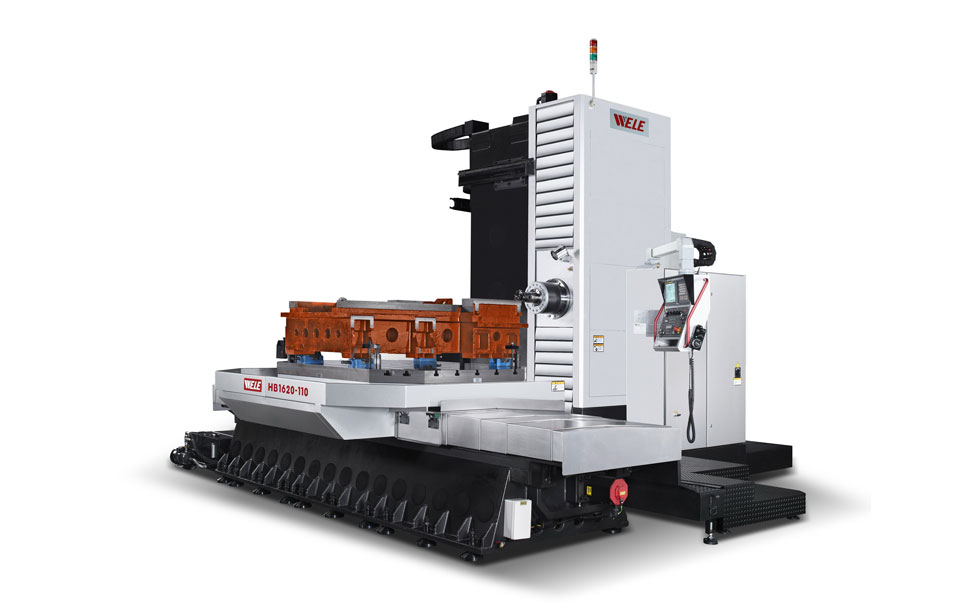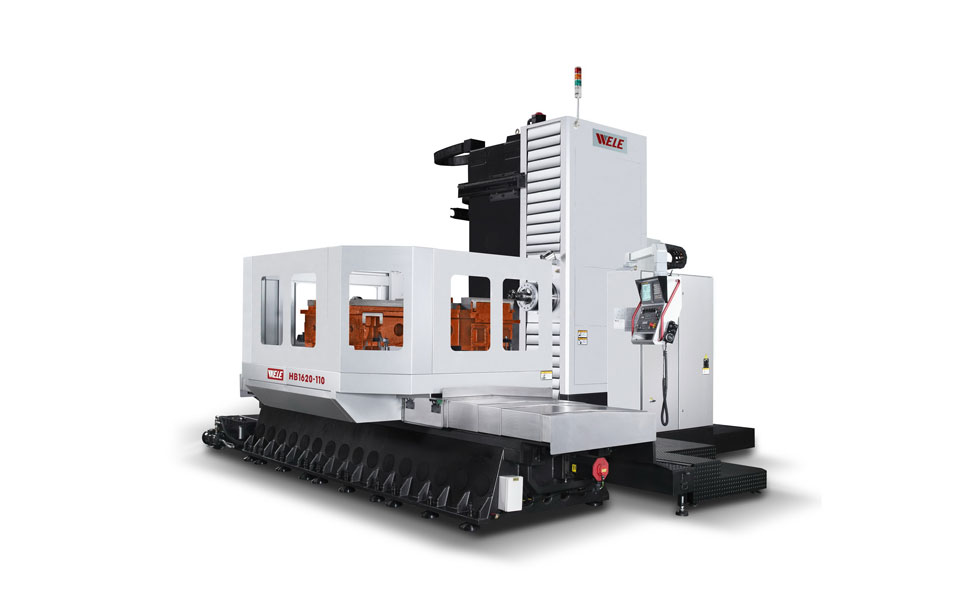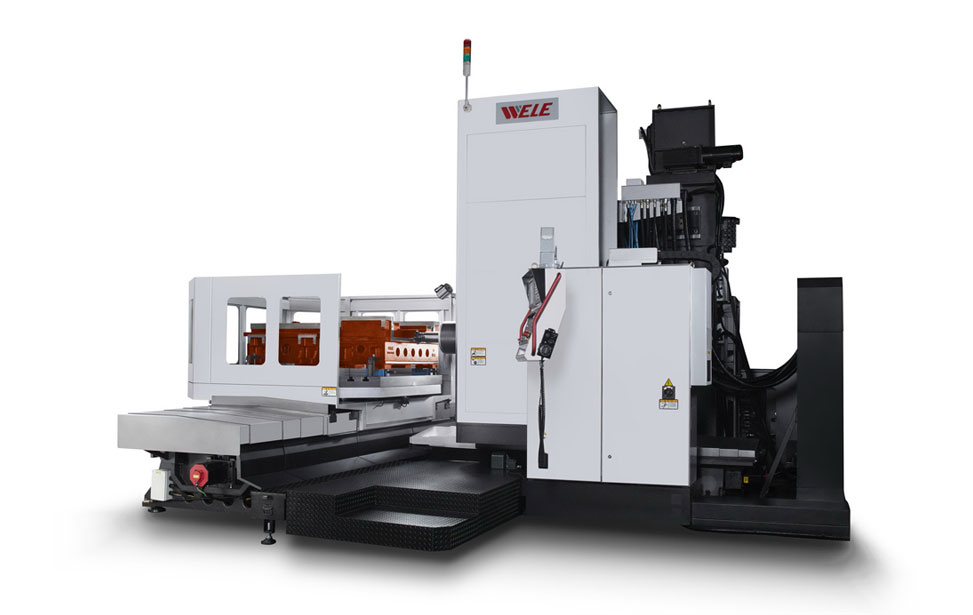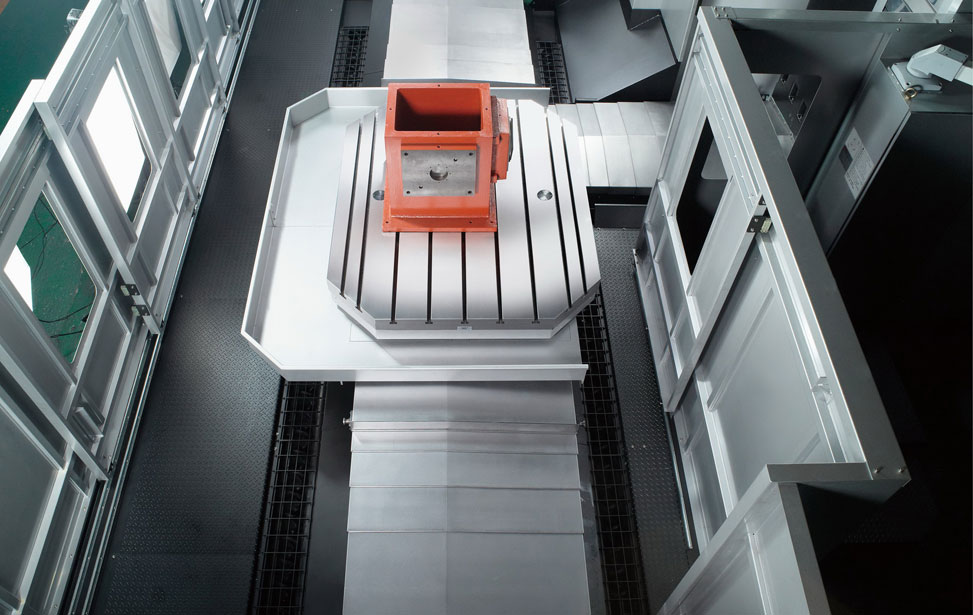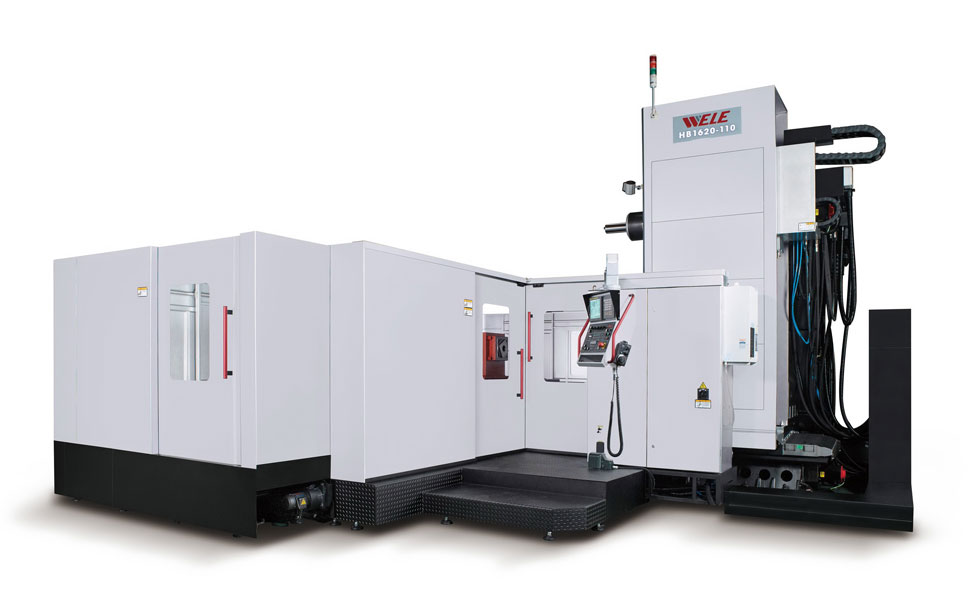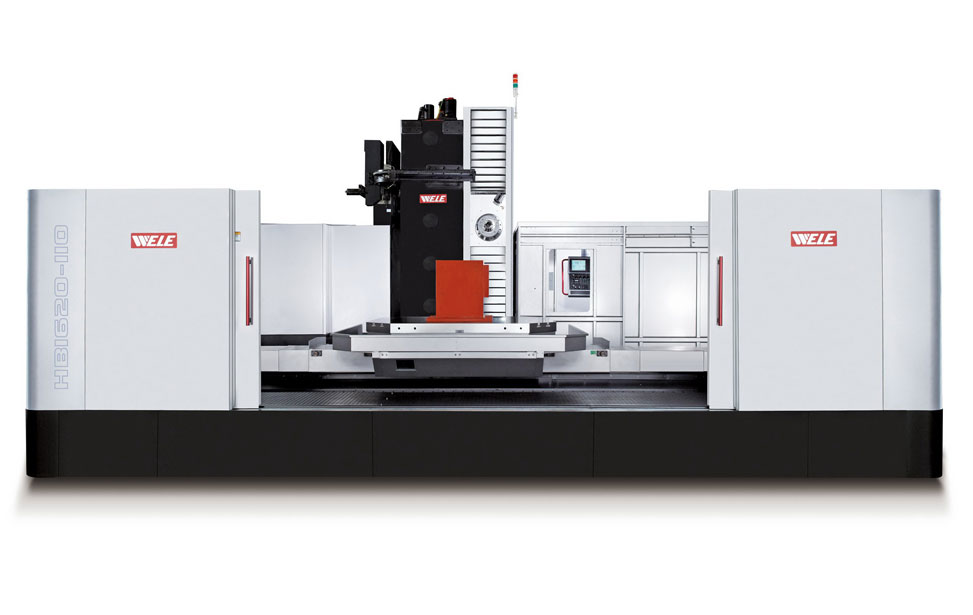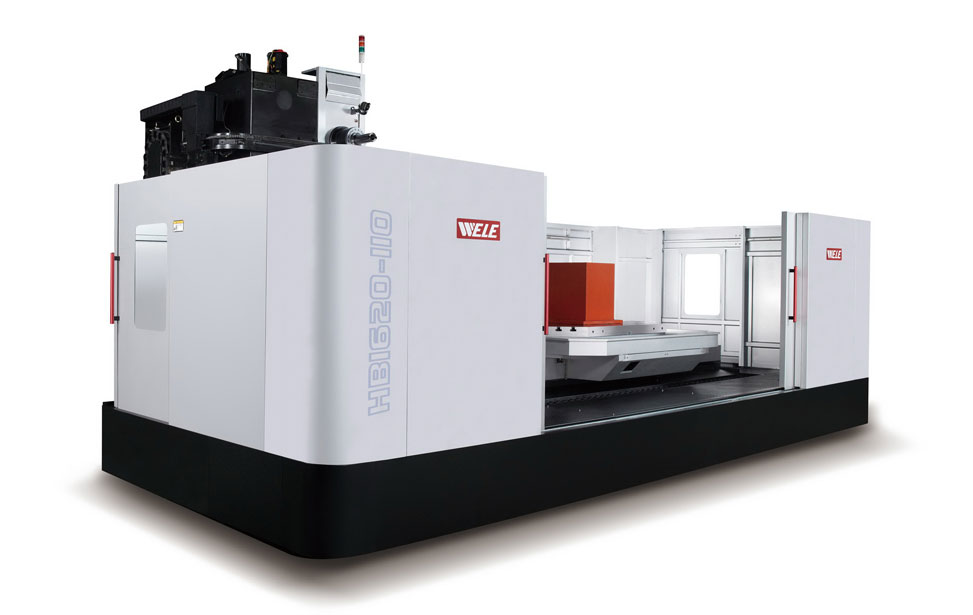 HB Series
Horizontal Boring Machining Center
Two kinds of spindle, Ø110mm (W travel with 500mm) and Ø130mm (W travel with 700mm) quill type and Ram type combined with quill travel, provides all kinds of applications.
Specified Hydro-static bearing offered heaviest loaded on the index table.
Patented backlash eliminated mechanism gives index table backlash free on the table smaller than 1600x2000mm, two servo motors convert on the table bigger than 2200x2500mm.
Specification/ Machine model
Unit
HB1620-110
HB1620-130
X axis travel
mm (in)
3000 (118.1)
Y axis travel
mm (in)
2100(82.6)
Z axis travel
mm (in)
1500 (59.1)
W axis travel
mm (in)
500(19.6)
700(27.5)
From spindle nose to the centerline of table
mm (in)
280~2280(89.7)
80(3.1)~2280(89.7)
Table dimension (X direction)
mm (in)
1600 (63)
Table dimension (Y direction)
mm (in)
2000 (78.7)
The samllest split angle of table
degree
0.001
Table loading
kg (lb)
20000 (44000)
Spindle motor power
kW (HP)
22/26 (30/35)
Spindle speed
rpm
3500
2500
Spindle taper
BT#50 (ISO 50)
Rapid feedrate - X axis
mm(in)/min
15000 (590.6)
Rapid feedrate - Y axis
mm(in)/min
12000 (472.4)
Rapid feedrate - Z axis
mm(in)/min
15000 (590.6)
Rapid feedrate - W axis
mm(in)/min
5000 (196.9)
Rapid feedrate - B axis
round/min
0.5
Cutting federate
mm(in)/min
12000(472.4)
Capacity of tool magazine
pcs
40
Max tool diameter / Adjacent pocket empty
mm (in)
125/250 (4.9/9.8)
Max. tool length
mm (in)
400(15.7)
Max. tool weight
kg (lb)
25(55)
Positioning accuracy (JIS 6338)
mm (in)
±0.010 (±0.0009/full travel)
Positioning accuarcy of X, Y axis (VDI/DGQ 3441)
mm (in)
P≦0.020(0.000787)/full travel
Positioning accuracy - Z axis (VDI/DGQ 3441)
mm (in)
P≦0.025(0.000984)/full travel
Repeatibility accuracy (JIS 6338)
mm (in)
±0.05(0.001969)
Repeatibility accuracy (VDI/DGQ 3441)
mm (in)
Ps≦0.015 (Ps≦0.0006)
Repeatibility accuracy-Z axis (VDI/DGQ 3441)
mm (in)
Ps≦0.018(0.000709)
Length of the machine
mm (in)
7795(306.8)
Width of the machine
mm (in)
6772(266.6)
Height of the machine
mm (in)
4485(176.5)
4522(178)
Weight of the machine
kg (lb)
34500(76059)
36000(79366)
Specification/ Machine model
Unit
HB1416-110
HB1416-130
X axis travel
mm (in)
2000 (78.7)
Y axis travel
mm (in)
1800(70.8)
Z axis travel
mm (in)
1300(51.1)
W axis travel
mm (in)
500(19.6)
700(27.5)
From spindle nose to the centerline of table
mm (in)
200(7.8)~2000(78.7)
0~2000(78.7)
Table dimension (X direction)
mm (in)
1440 (56.7)
Table dimension (Y direction)
mm (in)
1600 (63)
The samllest split angle of table
degree
0.001
Table loading
kg (lb)
8000 (17637)
Spindle motor power
kW (HP)
22/26 (30/35)
Spindle speed
rpm
3500
2500
Spindle taper
BT#50 (ISO 50)
Rapid feedrate - X axis
mm(in)/min
15000 (590.6)
Rapid feedrate - Y axis
mm(in)/min
12000 (472.4)
Rapid feedrate - Z axis
mm(in)/min
15000 (590.6)
Rapid feedrate - W axis
mm(in)/min
5000 (196.9)
Rapid feedrate - B axis
round/min
0.5
Cutting federate
mm(in)/min
12000(472.4)
Capacity of tool magazine
pcs
40
Max tool diameter / Adjacent pocket empty
mm (in)
125/250 (4.9/9.8)
Max. tool length
mm (in)
400(15.7)
Max. tool weight
kg (lb)
25(55)
Positioning accuracy (JIS 6338)
mm (in)
±0.010 (±0.0009/full travel)
Positioning accuarcy of X, Y axis (VDI/DGQ 3441)
mm (in)
P≦0.016 (0.0006)/ full length
Positioning accuracy - Z axis (VDI/DGQ 3441)
mm (in)
P≦0.025(0.000984)/full travel
Repeatibility accuracy (JIS 6338)
mm (in)
±0.05(0.001969)
Repeatibility accuracy (VDI/DGQ 3441)
mm (in)
Ps≦0.012 (Ps≦0.0005)
Repeatibility accuracy-Z axis (VDI/DGQ 3441)
mm (in)
Ps≦0.018(0.000709)
Length of the machine
mm (in)
6325(249)
Width of the machine
mm (in)
6292(247.7)
Height of the machine
mm (in)
4128(162.5)
4165(163.9)
Weight of the machine
kg (lb)
31000(68343)
32500(71650)