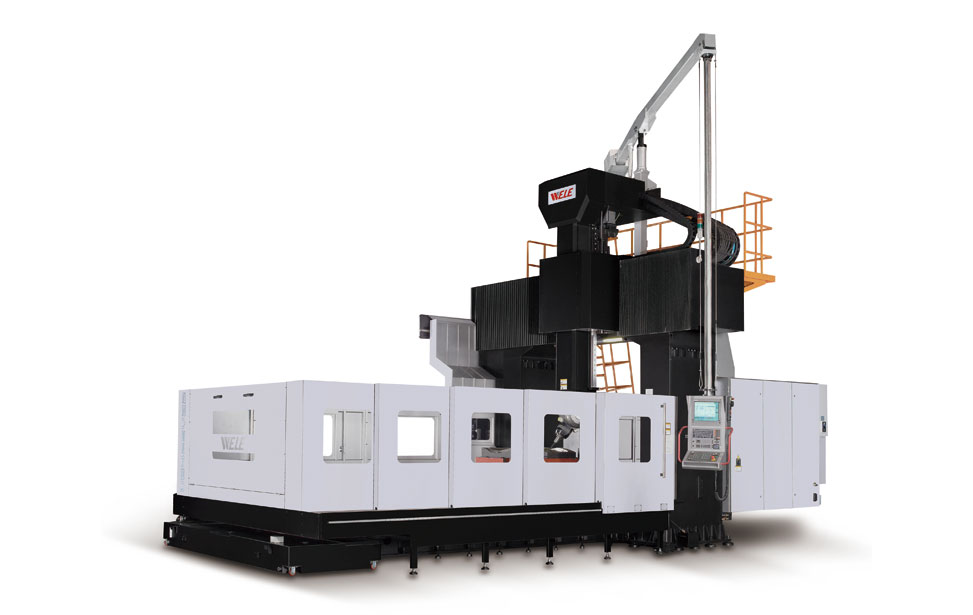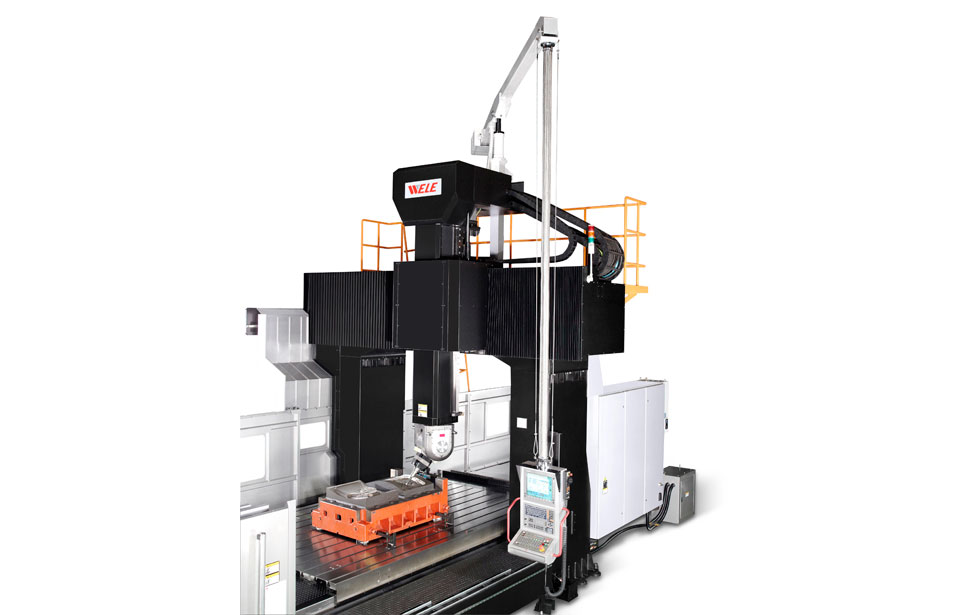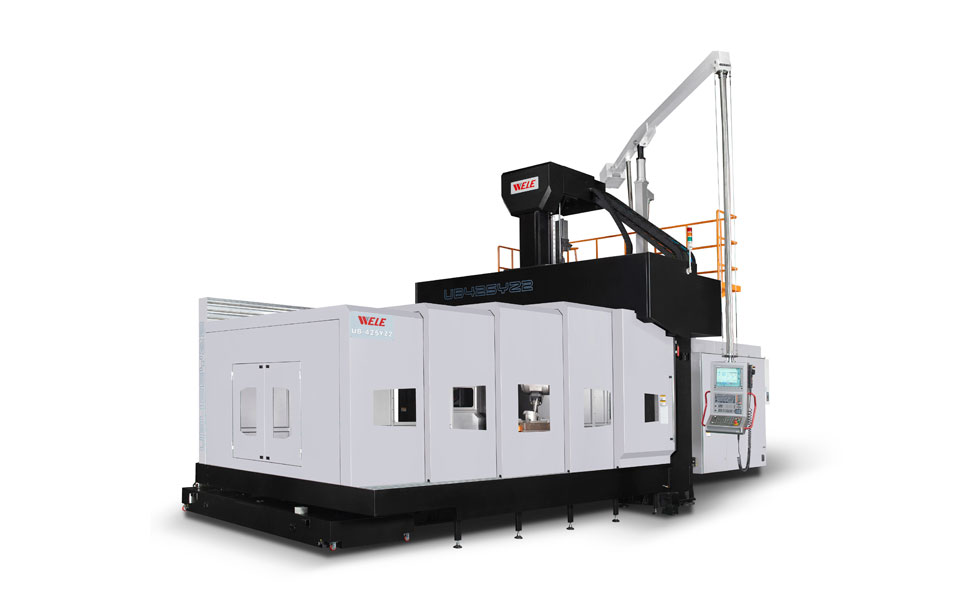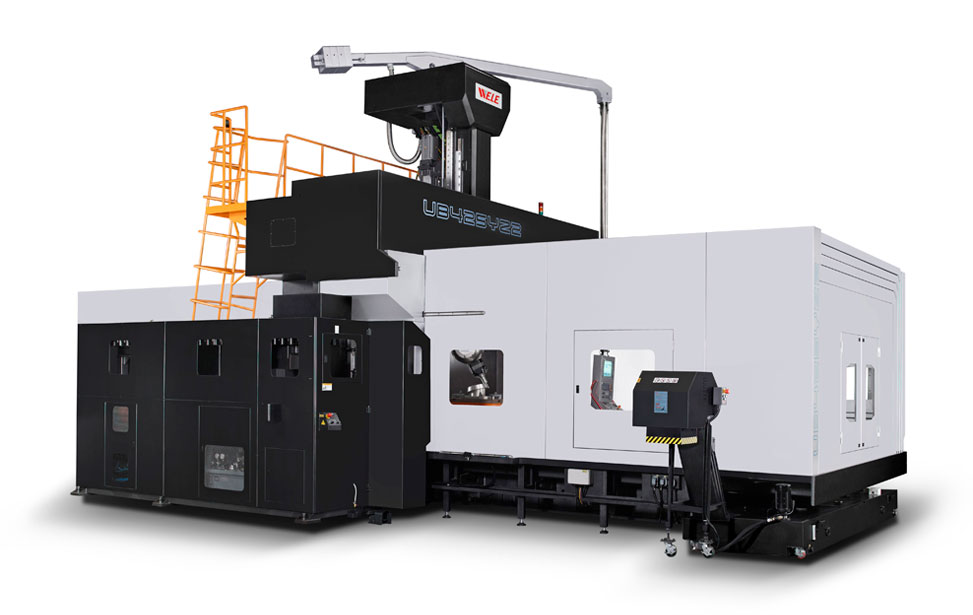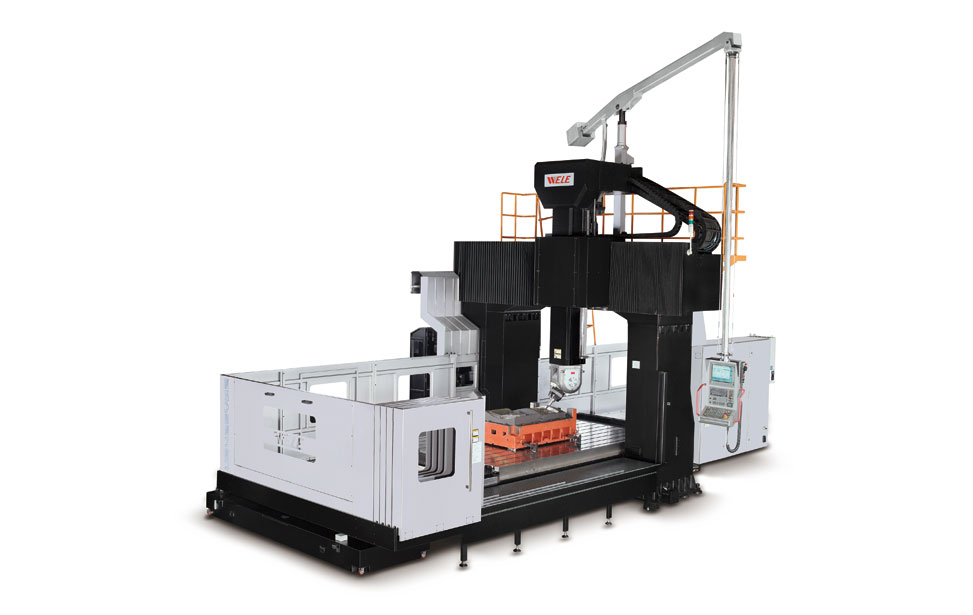 UB Series
Double Columns type Machining Center (with Univers
An additional tilting head available on all sizes of LB series machines called as UB series five axes simultaneous bridge machines.
Own design or purchased tilting head are all available as required.
Tilting angle range of ±110° on A axis and ±360° on C axis.
Z axis travel in 800mm as STD, 1000mm, 1200mm & 1400mm available as options.
The UB machine is mainly for European and US markets.
Equipping with FANUC/HEIDENHAIN controllers are available in tilting head made in Germany.
Specification/ Machine model
Unit
UB-433YZ
UB-533YZ
UB-633YZ
UB-733YZ
X axis travel
mm (in)
4060 (159.8)
5060 (199.2)
6060 (238.6)
7060 (278)
Y axis travel
mm (in)
4000 (157.4)
Z axis travel (B =0 degree)
mm (in)
1000 (39.4)
B axis travel
degree
+-110
C axis travel
degree
+-360
Table dimension (X direction)
mm (in)
4000 (157.5)
5000 (196.9)
6000 (236.2)
7000 (275.5)
Table dimension (Y direction)
mm (in)
2400 (94.5)
Table loading
kg (lb)
15000 (33069)
18000 (39683)
20000 (44092)
22000 (48501)
Spindle motor power
kW (HP)
34 (45.5)
Spindle speed
rpm
10-12000
Spindle taper
HSK-A100
Rapid feedrate - X axis
mm(in)/min
18000 (708.6)
12500 (492.1)
9000 (354.3)
6000 (236.2)
Rapid feedrate - Y axis
mm(in)/min
18000 (708.6)
Rapid feedrate - Z axis
mm(in)/min
10000 (393.7)
Cutting feedrate
mm(in)/min
1-10000 (393.7)
1-9000 (354.3)
1-6000 (236.2)
Capacity of tool magazine
pcs
32
Max. diameter of tool / Adjacent pocket empty
mm (in)
127(5)/215(8.4)
Max. length of tool
mm (in)
400 (15.7)
Max. weight of tool
kg (lb)
20 (44)
Positioning accuracy (JIS 6338)
mm (in)
±0.015(0.000591)/ full travel
Positioning accuracy (VDI/DGQ 3441)
mm (in)
P=0.025(0.000984)/ full travel
P=0.025(0.000984)/ full travel
P=0.030(0.001181)/ full travel
P=0.035(0.001378)/ full travel
Repeatibility accuracy (JIS 6338)
mm (in)
±0.003(0.000118)
Repeatibility accuracy (VDI/DGQ 3441)
mm (in)
Ps=0.020(0.000787)
Ps=0.020(0.000787)
Ps=0.025(0.000984)
Ps=0.028(0.001102)
Length of the machine
mm (in)
10590 (416.9)
12660 (498.4)
14750 (580.7)
15970 (628.7)
Width of the machine
mm (in)
7300 (287.4)
Height of the machine
mm (in)
6550 (257.9)
Weight of the machine
kg (lb)
43800 (96562)
49300 (108687)
54800 (120813)
---
Specification/ Machine model
Unit
UB-325YZ
UB-425YZ
UB-525YZ
UB-625YZ
UB-725YZ
X axis travel
mm (in)
3060 (120.5)
4060 (159.8)
5060 (199.2)
6060 (238.6)
7060 (278)
Y axis travel
mm (in)
3200 (125.9)
Z axis travel (B =0 degree)
mm (in)
1000 (39.4)
B axis travel
degree
+-110
C axis travel
degree
+-360
Table dimension (X direction)
mm (in)
3000 (118.1)
4000 (157.5)
5000 (196.9)
6000 (236.2)
6000 (236.2)
Table dimension (Y direction)
mm (in)
2400 (94.5)
Table loading
kg (lb)
12000 (26455)
15000 (33069)
18000 (39683)
20000 (44092)
20000 (44092)
Spindle motor power
kW (HP)
34(45.5)
Spindle speed
rpm
10-12000
Spindle taper
HSK-A100
Rapid feedrate - X axis
mm(in)/min
2000 (78.7)
18000 (708.6)
12500 (492.1)
9000 (354.3)
6000 (236.2)
Rapid feedrate - Y axis
mm(in)/min
15000 (590.5)
Rapid feedrate - Z axis
mm(in)/min
10000 (393.7)
Cutting feedrate
mm(in)/min
1-10000(393.7)
1-9000(354.3)
1-6000(236.2)
Capacity of tool magazine
pcs
32
Max. diameter of tool / Adjacent pocket empty
mm (in)
127(5)/215(8.4)
Max. length of tool
mm (in)
400 (15.7)
Max. weight of tool
kg (lb)
20 (44)
Positioning accuracy (JIS 6338)
mm (in)
±0.015(0.000591)/ full travel
Positioning accuracy (VDI/DGQ 3441)
mm (in)
P=0.019(0.000748)/ full travel
P=0.025(0.000984)/ full travel
P=0.025(0.000984)/ full travel
P=0.030(0.001181)/ full travel
P=0.035(0.001378)/ full travel
Repeatibility accuracy (JIS 6338)
mm (in)
±0.003(0.000118)
Repeatibility accuracy (VDI/DGQ 3441)
mm (in)
Ps=0.015(0.000591)
Ps=0.020(0.000787)
Ps=0.020(0.000787)
Ps=0.025(0.000984)
Ps=0.028(0.001102)
Length of the machine
mm (in)
8610 (338.9)
10590 (416.9)
12660 (498.4)
14750 (580.7)
17250 (679.1)
Width of the machine
mm (in)
6500 (255.9)
Height of the machine
mm (in)
6550 (257.9)
Weight of the machine
kg (lb)
37100 (81791)
43800 (96562)
49300 (108687)
54800 (120813)
---
Specification/ Machine model
Unit
UB-321YZ
UB-421YZ
UB-521YZ
UB-621YZ
UB-721YZ
X axis travel
mm (in)
3060 (120.5)
4060 (159.8)
5060 (199.2)
6060 (238.6)
7060 (277.9)
Y axis travel
mm (in)
2150 (84.6)
Z axis travel (B =0 degree)
mm (in)
1000 (39.4)
B axis travel
degree
+-110
C axis travel
degree
+-360
Table dimension (X direction)
mm (in)
3000 (118.1)
4000 (157.5)
5000 (196.9)
6000 (236.2)
7000 (275.5)
Table dimension (Y direction)
mm (in)
2000 (78.7)
Table loading
kg (lb)
12000 (26455)
15000 (33069)
18000 (39683)
20000 (44092)
22000 (48501)
Spindle motor power
kW (HP)
34(45.5)
Spindle speed
rpm
10-12000
Spindle taper
HSK-A100
Rapid feedrate - X axis
mm(in)/min
2000 (78.7)
18000 (708.6)
12500 (492.1)
9000 (354.3)
6000 (236.2)
Rapid feedrate - Y axis
mm(in)/min
20000 (787.4)
Rapid feedrate - Z axis
mm(in)/min
10000 (393.7)
Cutting feedrate
mm(in)/min
1-10000(393.7)
1-9000(354.3)
1-6000(236.2)
Capacity of tool magazine
pcs
32
Max. diameter of tool / Adjacent pocket empty
mm (in)
127(5)/215(8.4)
Max. length of tool
mm (in)
400 (15.7)
Max. weight of tool
kg (lb)
20 (44)
Positioning accuracy (JIS 6338)
mm (in)
±0.015(0.000591)/ full travel
Positioning accuracy (VDI/DGQ 3441)
mm (in)
P=0.019(0.000748)/ full travel
P=0.025(0.000984)/ full travel
P=0.025(0.000984)/ full travel
P=0.030(0.001181)/ full travel
P=0.035(0.001378)/ full travel
Repeatibility accuracy (JIS 6338)
mm (in)
±0.003(0.000118)
Repeatibility accuracy (VDI/DGQ 3441)
mm (in)
Ps=0.015(0.000591)
Ps=0.020(0.000787)
Ps=0.020(0.000787)
Ps=0.025(0.000984)
Ps=0.028(0.001102)
Length of the machine
mm (in)
8610 (339)
10590 (416.9)
12910 (508.3)
15000 (590.6)
17500 (688.9)
Width of the machine
mm (in)
5450 (214.6)
Height of the machine
mm (in)
6550 (257.9)
Weight of the machine
kg (lb)
33100 (72973)
39100 (86201)
43600 (96122)
48800 (107586)
---
Specification / Machine model
Unit
UB-321Z
UB-421Z
UB-521Z
UB-621Z
UB-721Z
X axis travel
mm (in)
3060 (120.5)
4060 (159.8)
5060 (199.2)
6060 (238.6)
7060 (277.9)
Y axis travel
mm (in)
2150 (84.6)
Z axis travel (B =0 degree)
mm (in)
1000 (39.4)
B axis travel
degree
+-110
C axis travel
degree
+-360
Table dimension (X direction)
mm (in)
3000 (118.1)
4000 (157.5)
5000 (196.9)
6000 (236.2)
7000 (275.5)
Table dimension (Y direction)
mm (in)
2000 (78.7)
Table loading
kg (lb)
12000 (26455)
15000 (33069)
18000 (39683)
20000 (44092)
22000 (48501)
Spindle motor power
kW (HP)
34 (45.5)
Spindle speed
rpm
10-12000
Spindle taper
HSK-A100
Rapid feedrate - X axis
mm(in)/min
2000 (78.7)
18000 (708.6)
12500 (492.1)
9000 (354.3)
6000 (236.2)
Rapid feedrate - Y axis
mm(in)/min
20000 (787.4)
Rapid feedrate - Z axis
mm(in)/min
10000 (393.7)
Cutting feedrate
mm(in)/min
1-10000(393.7)
1-9000(354.3)
1-6000(236.2)
Capacity of tool magazine
pcs
32
Max. diameter of tool / Adjacent pocket empty
mm (in)
127(5)/215(8.4)
Max. length of tool
mm (in)
400 (15.7)
Max. weight of tool
kg (lb)
20 (44)
Positioning accuracy (JIS 6338)
mm (in)
±0.015(0.000591)/ full travel
Positioning accuracy (VDI/DGQ 3441)
mm (in)
P=0.019(0.000748)/ full travel
P=0.025(0.000984)/ full travel
P=0.025(0.000984)/ full travel
P=0.030(0.001181)/ full travel
P=0.035(0.001378)/ full travel
Repeatibility accuracy (JIS 6338)
mm (in)
±0.003(0.000118)
Repeatibility accuracy (VDI/DGQ 3441)
mm (in)
Ps=0.015(0.000591)
Ps=0.020(0.000787)
Ps=0.020(0.000787)
Ps=0.025(0.000984)
Ps=0.028(0.001102)
Length of the machine
mm (in)
8610 (339)
10590 (416.9)
12910 (508.3)
15000 (590.6)
17500 (688.9)
Width of the machine
mm (in)
5450 (214.6)
Height of the machine
mm (in)
6550 (257.9)
Weight of the machine
kg (lb)
33100 (72973)
39100 (86201)
43600 (96122)
48800 (107586)
---
Specification/ Machine model
Unit
UB-433Z
UB-533Z
UB-633Z
UB-733Z
X axis travel
mm (in)
4060 (159.8)
5060 (199.2)
6060 (238.6)
7060 (278)
Y axis travel
mm (in)
3350 (131.9)
Z axis travel (B =0 degree)
mm (in)
1000 (39.4)
B axis travel
degree
+-110
C axis travel
degree
+-360
Table dimension (X direction)
mm (in)
4000 (157.5)
5000 (196.9)
6000 (236.2)
7000 (275.5)
Table dimension (Y direction)
mm (in)
2400 (94.5)
Table loading
kg (lb)
15000 (33069)
18000 (39683)
20000 (44092)
22000 (48501)
Spindle motor power
kW (HP)
34(45.5)
Spindle speed
rpm
10-12000
Spindle taper
HSK-A100
Rapid feedrate - X axis
mm(in)/min
18000 (708.6)
12500 (492.1)
9000 (354.3)
6000 (236.2)
Rapid feedrate - Y axis
mm(in)/min
15000 (590.5)
Rapid feedrate - Z axis
mm(in)/min
10000 (393.7)
Cutting feedrate
mm(in)/min
1-10000(393.7)
1-9000(354.3)
1-6000(236.2)
Capacity of tool magazine
pcs
32
Max. diameter of tool / Adjacent pocket empty
mm (in)
127(5)/215(8.4)
Max. length of tool
mm (in)
400 (15.7)
Max. weight of tool
kg (lb)
20 (44)
Positioning accuracy (JIS 6338)
mm (in)
±0.015(0.000591)/ full travel
Positioning accuracy (VDI/DGQ 3441)
mm (in)
P=0.025(0.000984)/ full travel
P=0.025(0.000984)/ full travel
P=0.030(0.001181)/ full travel
P=0.035(0.001378)/ full travel
Repeatibility accuracy (JIS 6338)
mm (in)
±0.003(0.000118)
Repeatibility accuracy (VDI/DGQ 3441)
mm (in)
Ps=0.020(0.000787)
Ps=0.020(0.000787)
Ps=0.025(0.000984)
Ps=0.028(0.001102)
Length of the machine
mm (in)
10590 (416.9)
12660 (498.4)
14750 (580.7)
15970 (628.7)
Width of the machine
mm (in)
6650 (261.8)
Height of the machine
mm (in)
6550 (257.9)
Weight of the machine
kg (lb)
42600 (93917)
48100 (106042)
53600 (118168)
---
Specification / Machine model
Unit
UB-325Z
UB-425Z
UB-525Z
UB-625Z
UB-725Z
X axis travel
mm (in)
3060 (120.5)
4060 (159.8)
5060 (199.2)
6060 (238.6)
7060 (278)
Y axis travel
mm (in)
2550 (100.4)
Z axis travel (B =0 degree)
mm (in)
1000 (39.4)
B axis travel
degree
+-110
C axis travel
degree
+-360
Table dimension (X direction)
mm (in)
3000 (118.1)
4000 (157.5)
5000 (196.9)
6000 (236.2)
6000 (236.2)
Table dimension (Y direction)
mm (in)
2400 (94.5)
Table loading
kg (lb)
12000 (26455)
15000 (33069)
18000 (39683)
20000 (44092)
20000 (44092)
Spindle motor power
kW (HP)
34 (45.5)
Spindle speed
rpm
10-12000
Spindle taper
HSK-A100
Rapid feedrate - X axis
mm(in)/min
2000 (78.7)
18000 (708.6)
12500 (492.1)
9000 (354.3)
6000 (236.2)
Rapid feedrate - Y axis
mm(in)/min
20000 (787.4)
Rapid feedrate - Z axis
mm(in)/min
10000 (393.7)
Cutting feedrate
mm(in)/min
1-10000(393.7)
1-9000(354.3)
1-6000(236.2)
Capacity of tool magazine
pcs
32
Max. diameter of tool / Adjacent pocket empty
mm (in)
127(5)/215(8.4)
Max. length of tool
mm (in)
400 (15.7)
Max. weight of tool
kg (lb)
20 (44)
Positioning accuracy (JIS 6338)
mm (in)
±0.015(0.000591)/ full travel
Positioning accuracy (VDI/DGQ 3441)
mm (in)
P=0.019(0.000748)/ full travel
P=0.025(0.000984)/ full travel
P=0.025(0.000984)/ full travel
P=0.030(0.001181)/ full travel
P=0.035(0.001378)/ full travel
Repeatibility accuracy (JIS 6338)
mm (in)
±0.003(0.000118)
Repeatibility accuracy (VDI/DGQ 3441)
mm (in)
Ps=0.015(0.000591)
Ps=0.020(0.000787)
Ps=0.020(0.000787)
Ps=0.025(0.000984)
Ps=0.028(0.001102)
Length of the machine
mm (in)
8610 (338.9)
10590 (416.9)
12660 (498.4)
14750 (580.7)
17250 (679.1)
Width of the machine
mm (in)
5850 (230.3)
Height of the machine
mm (in)
6550 (257.9)
Weight of the machine
kg (lb)
35900 (79146)
42600 (93917)
48100 (106042)
53600 (118168)
---