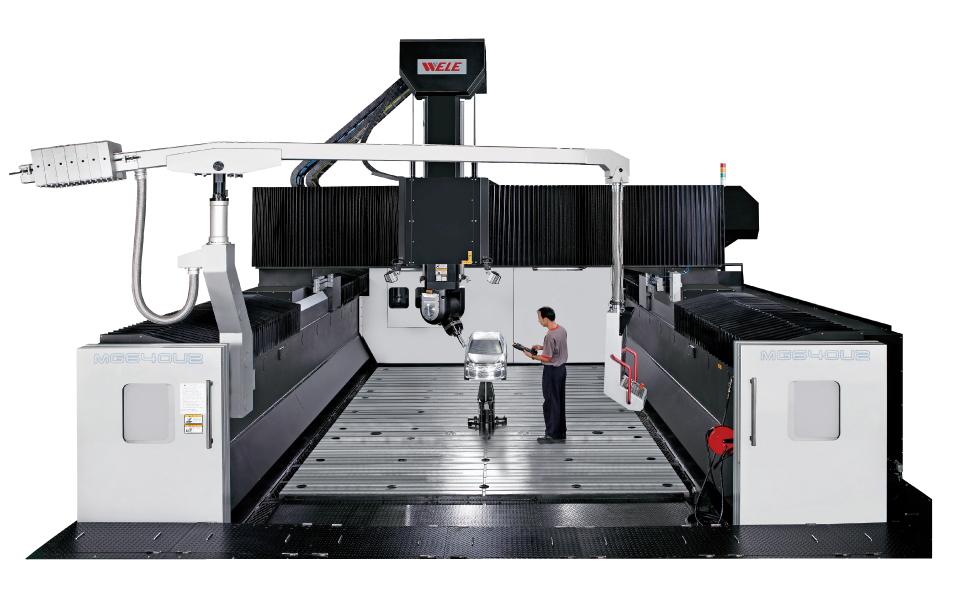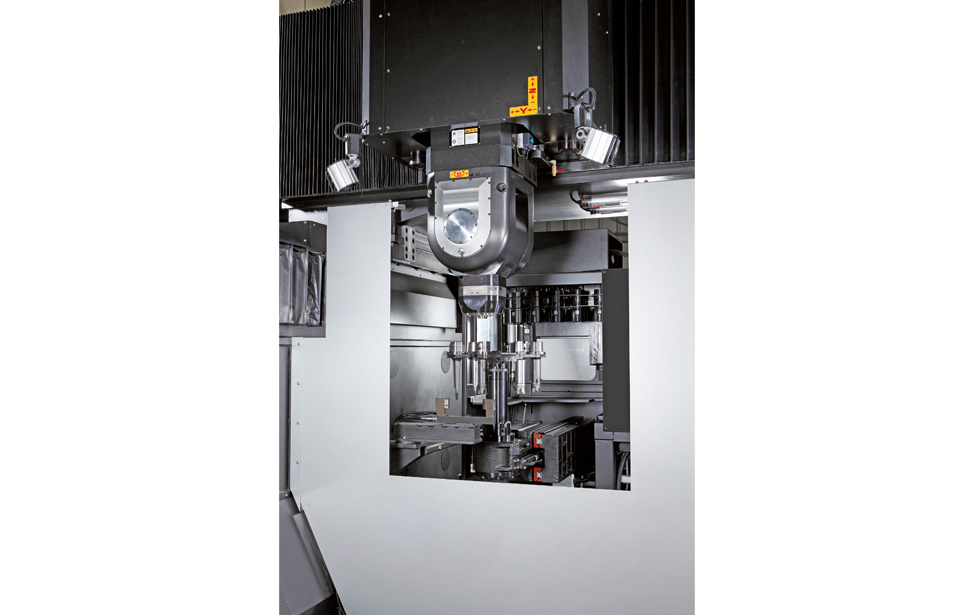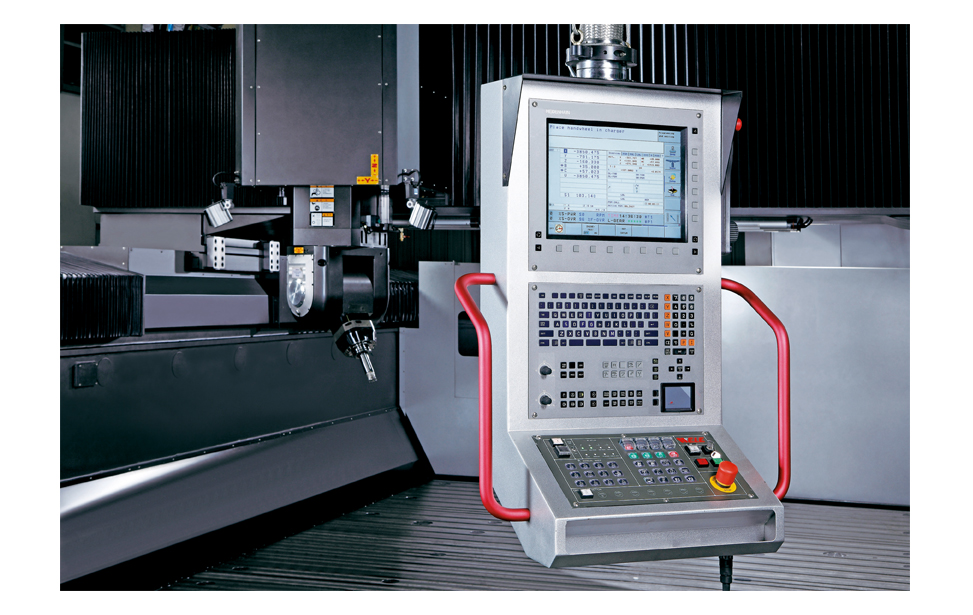 MG-U Series
Moving Gantry type 5 Axes Bridge Machining Center
Moving overhead gantry bridge machine with max up to 20m in X axis and 5m in Y axis is available.
Twin driven feed system on X axis travel up to 6000mm with ball screw; rack and pinion driven feed system available with travel 6000mm above.
Automatic multi-head exchange and storage system, AC tilting head with 5 axes simultaneous control are all optional available on the field.
Max. table load of 2500kg/m² is provided.
Special foundation at the customer site is required.
Patented backlash eliminated mechanism is applied on the X axis travel.
FANUC/HENDENHAIN controllers are available in tilting head made in Germany. (MG-U series).
Specification/ Machine model
Unit
MG-650U
MG-850U
MG-1050U
X axis travel
mm (in)
6000 (236)
8000 (314)
10000 (393)
Y axis travel
mm (in)
5000 (196.9)
5000 (196.9)
5000 (196.9)
Z axis travel
mm (in)
1000 (39.4)
1000 (39.4)
1000 (39.4)
B axis travel
degree
+-110
C axis travel
degree
+-360
Table dimension (X direction)
mm (in)
6000 (236)
8000 (314)
10000 (393)
Table dimension (Y direction)
mm (in)
4800 (189)
Table loading
kg (lb)
2500 (5512)
Spindle motor power
kW (HP)
34(45.6)
Spindle speed
rpm
10-12000
Spindle taper
HSK-A100
Rapid feedrate - X axis
mm(in)/min
20000 (787)
Rapid feedrate - Y axis
mm(in)/min
12000 (472)
Rapid feedrate - Z axis
mm(in)/min
10000 (393)
Cutting federate
mm(in)/min
1-10000 (393)
Capacity of tool magazine
pcs
32
Max. diameter of tool / Adjacent pocket empty
mm (in)
127/215 (5/8.4)
Max. length of tool
mm (in)
400 (15)
Max. weight of tool
kg (lb)
20 (44)
Positioning accuracy (JIS 6338)
mm (in)
±0.025(0.0009)/full travel
Positioning accuracy (VDI/DGQ 3441)
mm (in)
P≦0.030(0.0011)
P≦0.035 (0.0013)
P≦0.045 (0.0017)
Repeatibility accuracy (JIS 6338)
mm (in)
±0.010(0.0003)
Repeatibility accuracy (VDI/DGQ 3441)
mm (in)
Ps≦0.025(0.0009)
Ps≦0.028(0.0011)
Ps≦0.032(0.0012)
Length of the machine
mm (in)
12275 (483.3)
14275 (562)
16275 (640.7)
Width of the machine
mm (in)
8560 (337)
8560 (337)
8560 (337)
Height of the machine
mm (in)
4200 (165.4)
4200 (165.4)
4200 (165.4)
Weight of the machine
kg (lb)
104000 (229281)
126000 (277782)
148000 (326284)
Specification / Machine model
Unit
MG-540U
MG-640U
MG-840U
MG-1040U
X axis travel
mm (in)
5000 (196)
6000 (236)
8000 (314)
10000 (393)
Y axis travel
mm (in)
4000 (157.5)
4000 (157.5)
4000 (157.5)
4000 (157.5)
Z axis travel
mm (in)
1000 (39.4)
1000 (39.4)
1000 (39.4)
1000 (39.4)
B axis travel
degree
+-110
C axis travel
degree
+-360
Table dimension (X direction)
mm (in)
5000 (196)
6000 (236)
8000 (314)
10000 (393)
Table dimension (Y direction)
mm (in)
3800 (149.6)
Table loading
kg (lb)
2500 (5512)
Spindle motor power
kW (HP)
34(45.6)
Spindle speed
rpm
10-12000
Spindle taper
HSK-A100
Rapid feedrate - X axis
mm(in)/min
10000(393)
20000 (787)
Rapid feedrate - Y axis
mm(in)/min
15000 (590)
Rapid feedrate - Z axis
mm(in)/min
10000 (393)
Cutting federate
mm(in)/min
1-10000 (393)
Capacity of tool magazine
pcs
32
Max. diameter of tool / Adjacent pocket empty
mm (in)
127/215 (5/8.4)
Max. length of tool
mm (in)
400 (15)
Max. weight of tool
kg (lb)
20 (44)
Positioning accuracy (JIS 6338)
mm (in)
±0.025(0.0009)/full travel
Positioning accuracy (VDI/DGQ 3441)
mm (in)
P≦0.025 (0.0009)
P≦0.030 (0.0011)
P≦0.035 (0.0013)
P≦0.045 (0.0017)
Repeatibility accuracy (JIS 6338)
mm (in)
±0.010(0.0003)
Repeatibility accuracy (VDI/DGQ 3441)
mm (in)
Ps≦0.020(0.0007)
Ps≦0.025(0.0009)
Ps≦0.028(0.0011)
Ps≦0.032(0.0012)
Length of the machine
mm (in)
10710 (421.7)
12275 (483.3)
14275 (562)
16275 (640.7)
Width of the machine
mm (in)
7560 (297.6)
7560 (297.6)
7560 (297.6)
7560 (297.6)
Height of the machine
mm (in)
4200 (165.4)
4200 (165.4)
4200 (165.4)
4200 (165.4)
Weight of the machine
kg (lb)
76000 (167551)
96000 (211644)
117000 (257941)
140000 (308647)
Specification/ Machine model
Unit
MG-530U
MG-630U
MG-830U
MG-1030U
X axis travel
mm (in)
5000 (196)
6000 (236)
8000 (314)
10000 (393)
Y axis travel
mm (in)
3000 (118.1)
3000 (118.1)
3000 (118.1)
3000 (118.1)
Z axis travel
mm (in)
1000 (39.4)
1000 (39.4)
1000 (39.4)
1000 (39.4)
B axis travel
degree
+-110
C axis travel
degree
+-360
Table dimension (X direction)
mm (in)
5000 (196.9)
6000 (236.2)
8000 (315)
10000 (393.7)
Table dimension (Y direction)
mm (in)
2800 (110.2)
2800 (110.2)
2800 (110.2)
2800 (110.2)
Table loading
kg (lb)
2500 (5512)
2500 (5512)
2500 (5512)
2500 (5512)
Spindle motor power
kW (HP)
34(45.6)
Spindle speed
rpm
10-12000
Spindle taper
HSK-A100
Rapid feedrate - X axis
mm(in)/min
10000(393)
20000 (787)
Rapid feedrate - Y axis
mm(in)/min
15000 (590)
Rapid feedrate - Z axis
mm(in)/min
10000 (393)
Cutting federate
mm(in)/min
1-10000 (393)
Capacity of tool magazine
pcs
32
Max. diameter of tool / Adjacent pocket empty
mm (in)
127/215 (5/8.4)
Max. length of tool
mm (in)
400 (15)
Max. weight of tool
kg (lb)
20 (44)
Positioning accuracy (JIS 6338)
mm (in)
±0.025(0.0009)/full travel
Positioning accuracy (VDI/DGQ 3441)
mm (in)
P≦0.025 (0.0009)
P≦0.030 (0.0011)
P≦0.035 (0.0013)
P≦0.045 (0.0017)
Repeatibility accuracy (JIS 6338)
mm (in)
±0.010(0.0003)
Repeatibility accuracy (VDI/DGQ 3441)
mm (in)
Ps≦0.020(0.0007)
Ps≦0.025(0.0009)
Ps≦0.028(0.0011)
Ps≦0.032(0.0012)
Length of the machine
mm (in)
10710 (421.7)
12275 (483.3)
14275 (562)
16275 (640.7)
Width of the machine
mm (in)
6560 (258.3)
6560 (258.3)
6560 (258.3)
6560 (258.3)
Height of the machine
mm (in)
4200 (165.4)
4200 (165.4)
4200 (165.4)
4200 (165.4)
Weight of the machine
kg (lb)
67000 (147710)
79000 (174165)
103000 (227076)
127000 (279987)