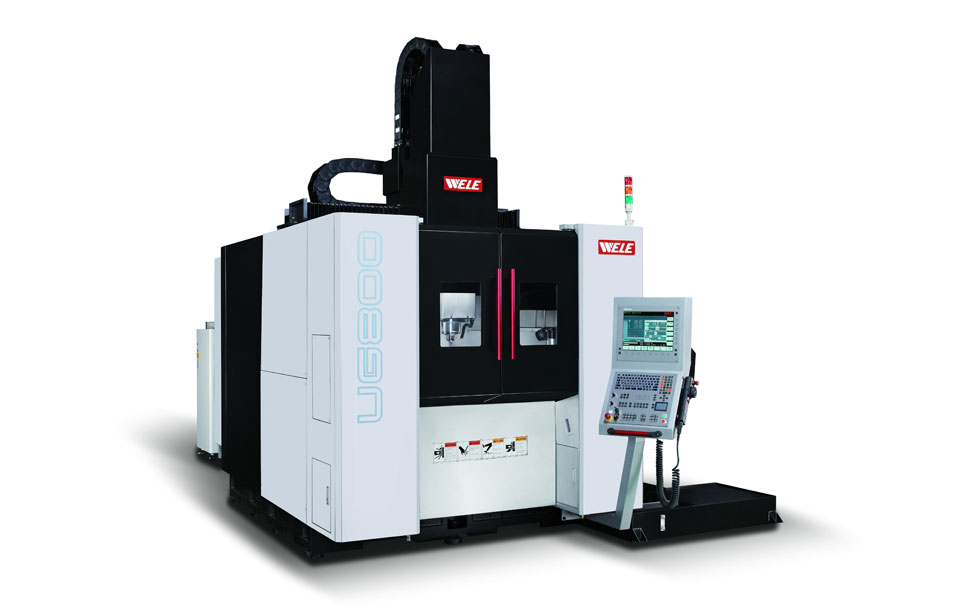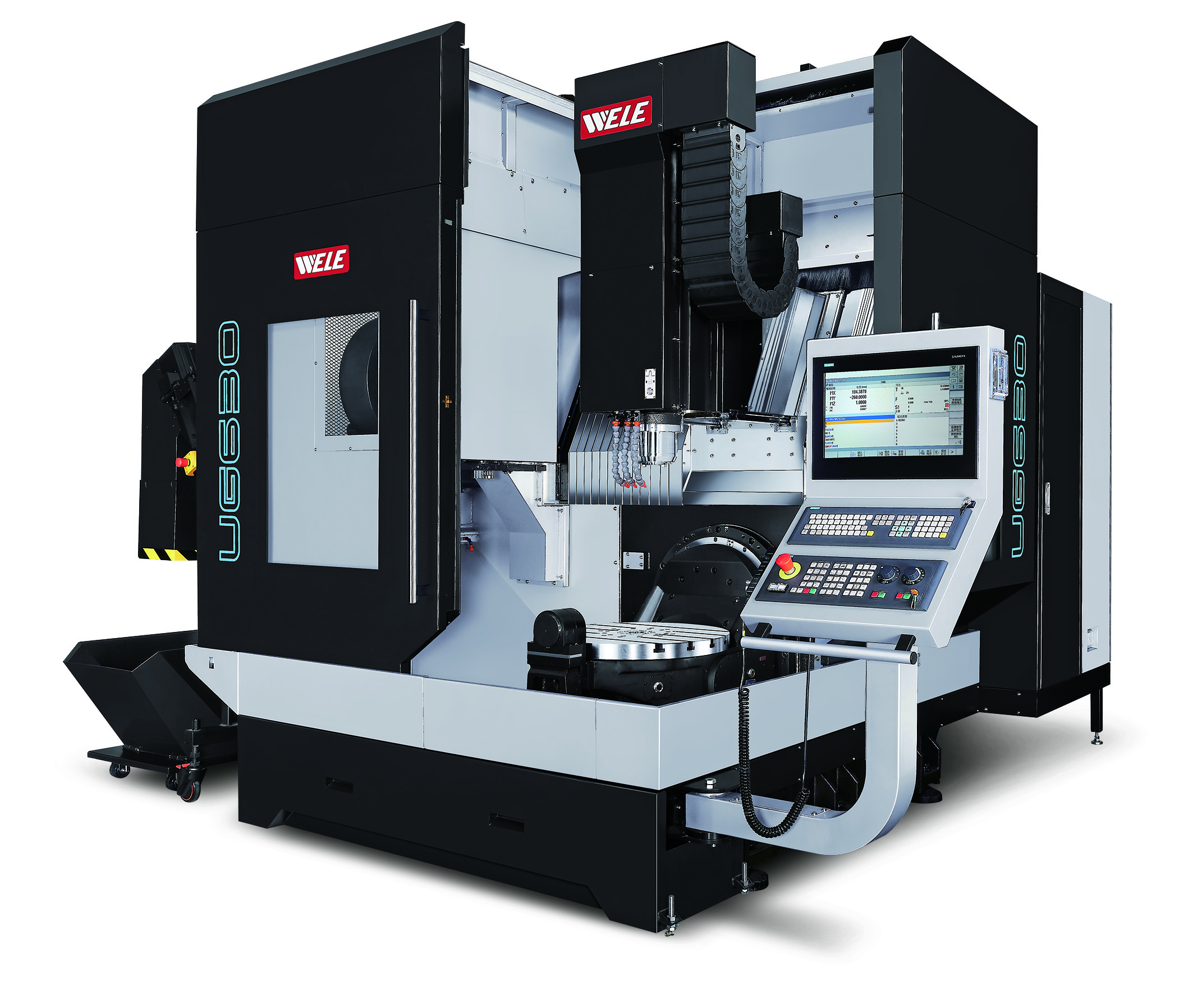 UG Series
Moving Gantry type 5 Axes Machining Center
Compact design for 5 sides & 5 axes simultaneous application jobs: Aerospace and general parts machining.
Overhead moving gantry by twin driving system on Y axis.
Own developed Trunion AC table provide max torque of 6000Nm on A, 2000Nm on C axis.
Max. tool capacity of 60 is optional available.
Heidenhain and FANUC controller both available on this field.
| Specification/ Machine model | Unit | UG-630 |
| --- | --- | --- |
| X axis travel | mm (in) | 640 (25.1) |
| Y axis travel | mm (in) | 520 (20.4) |
| Z axis travel | mm (in) | 460 (18.1) |
| B axis travel | degree | -50 / +110 |
| C axis travel | degree | 360 |
| Table diameter | mm (in) | 650 (25.6) |
| Table loading (B axis at 90° / 0°) | kg (lb) | 200/300 (440/660) |
| Spindle motor power (cont./30min.) | kW (HP) | 18(21) / 24(28) |
| Spindle speed | rpm | 12000 |
| Spindle taper | | #40 / BBT/ CAT/ DIN/ HSK A63 |
| Rapid feedrate - X axis | mm(in)/min | 40000 (1574.8) |
| Rapid feedrate - Y axis | mm(in)/min | 40000 (1574.8) |
| Rapid feedrate - Z axis | mm(in)/min | 40000 (1574.8) |
| Rapid feedrate - A axis | rpm | 25 |
| Rapid feedrate - C axis | rpm | 25 |
| Cutting federate | mm(in)/min | 1-20000 (0.04-787.4) |
| Capacity of tool magazine | pcs | 32 |
| Max. diameter of tool / Adjacent pocket empty | mm (in) | 75 / 127 (2.95 / 5.0) |
| Max. length of tool | mm (in) | 300 (11.8) |
| Max. weight of tool | kg (lb) | 7 (15.4) |
| Positioning accuracy (VDI/DGQ 3441) | mm (in) | P≦0.020 (P≦0.0008) |
| Repeatibility accuracy (VDI/DGQ 3441) | mm (in) | Ps≦0.015 (Ps0.0006) |
| Length of the machine | mm (in) | 4840 (190.5) |
| Width of the machine | mm (in) | 4540 (178.7) |
| Height of the machine | mm (in) | 2875 (113.1) |
| Weight of the machine | kg (lb) | 8500 (18700) |
| Specification/ Machine model | Unit | UG800 |
| --- | --- | --- |
| X axis travel | mm (in) | 800 (31.5) |
| Y axis travel | mm (in) | 950 (37.4) |
| Z axis travel | mm (in) | 650 (25.6) |
| A axis travel | degree | +30 / -120 |
| C axis travel | degree | 360 |
| Table loading | kg (lb) | 1000 (2205) |
| Spindle motor power | kW (HP) | 21.6/30.9 (28/41.4) |
| Spindle speed | rpm | 14000 |
| Spindle taper | | #40 / BBT/ CAT/ DIN/ HSK A63 |
| Rapid feedrate - X axis | mm(in)/min | 48000 (1889.8) |
| Rapid feedrate - Y axis | mm(in)/min | 48000 (1889.8) |
| Rapid feedrate - Z axis | mm(in)/min | 48000 (1889.8) |
| Rapid feedrate - A axis | rpm | 25 |
| Rapid feedrate - C axis | rpm | 100 |
| Cutting federate | mm(in)/min | 1-10000 (0.04-393.7) |
| Capacity of tool magazine | pcs | 30 |
| Max. diameter of tool / Adjacent pocket empty | mm (in) | 90/130 (3.54/5.12) |
| Max. length of tool | mm (in) | 300 (11.8) |
| Max. weight of tool | kg (lb) | 8 (18) |
| Positioning accuracy (JIS 6338) | mm (in) | ± 0.01(±0.0004 / full travel) |
| Positioning accuracy (VDI/DGQ 3441) | mm (in) | P≦0.020 (P≦0.0008) |
| Repeatibility accuracy (JIS 6338) | mm (in) | ±0.003 (±0.0001) |
| Repeatibility accuracy (VDI/DGQ 3441) | mm (in) | Ps0.015≦ (Ps0.0006) |
| Length of the machine | mm (in) | 5000 (196.9) |
| Width of the machine | mm (in) | 3000 (118.1) |
| Height of the machine | mm (in) | 3650 (143.7) |
| Weight of the machine | kg (lb) | 15000 (33069) |