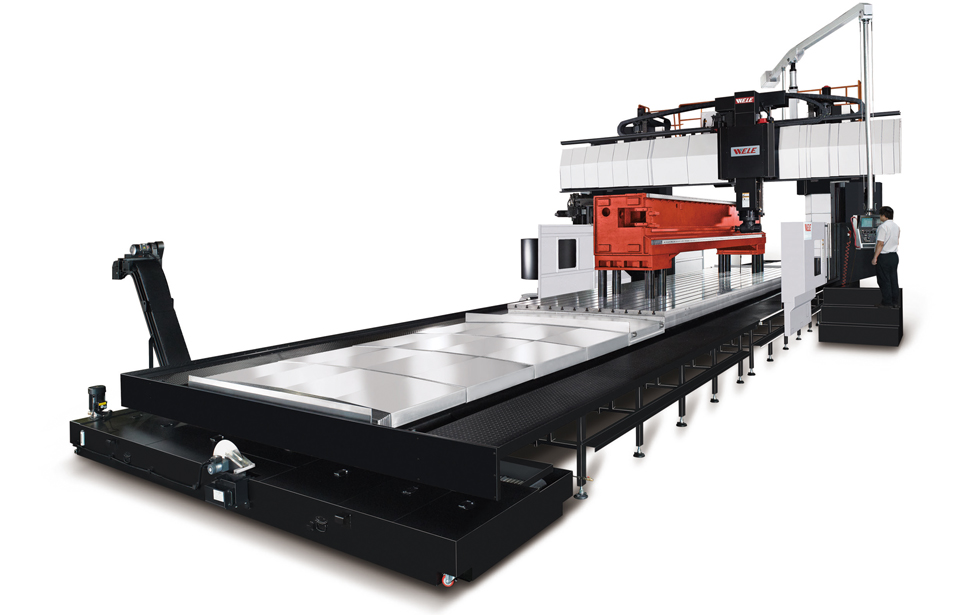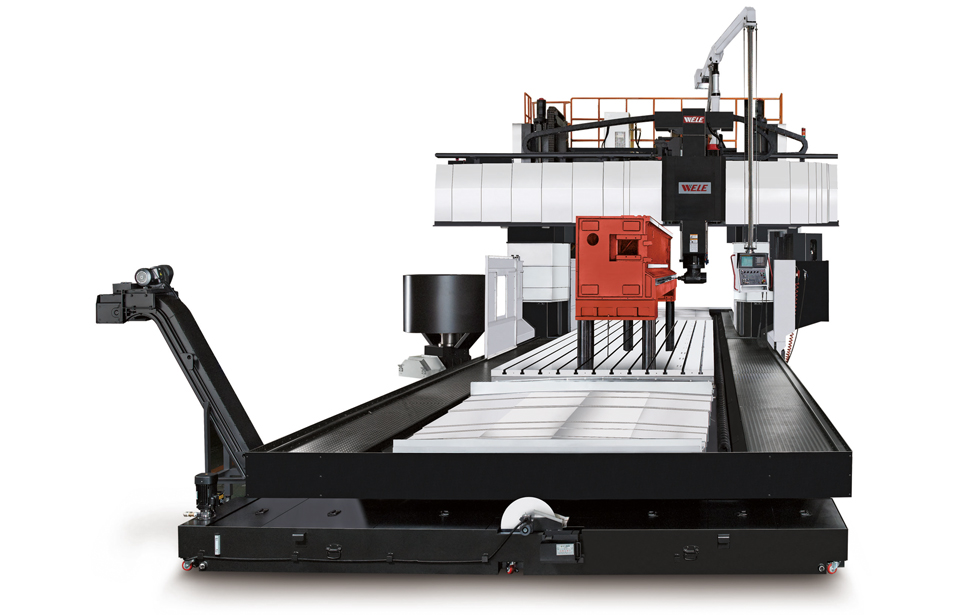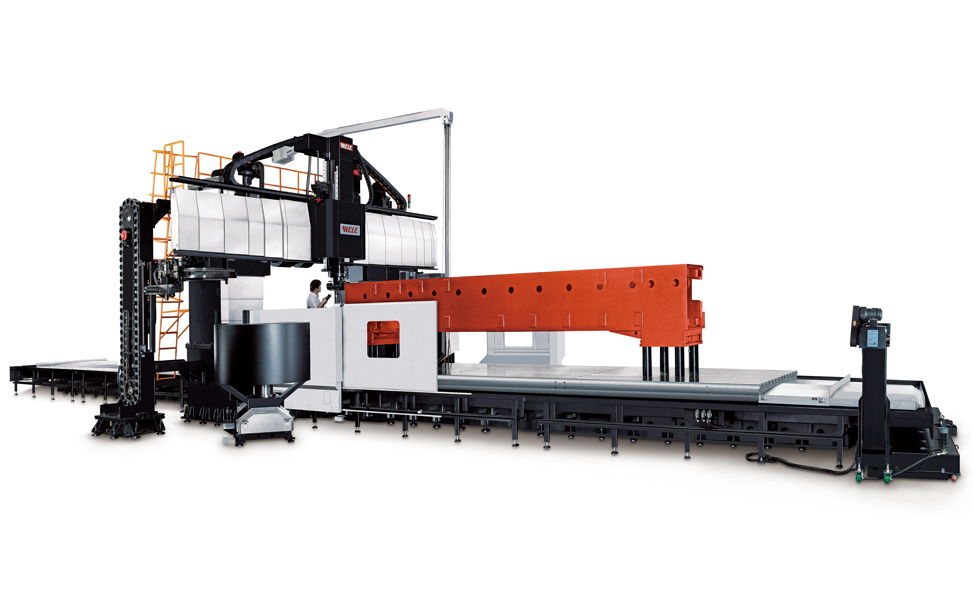 MVB Series
Moving Crossrail Type Bridge Machining Center
Special design for extra size machining purpose.
Z travel can be extended to 1400mm (55.1in) Max. height of distance between spindle nose and table top is 2400mm (94.4in)
Minimize the overhang of the cross-rail and spindle carriage combination to increase the rigidity of the cutting performance.
Max length of X travel can be up to 10000mm (393.7in).
Dismantle before shipment is necessary. Any installation assistance might cost extra.
Specification/ Machine model

Unit

MVB-432

MVB-532

MVB-632

MVB-732

X axis travel
mm (in)
4060 (159.8)
5060 (199.2)
6060 (238.6)
7060 (277.9)
Y axis travel
mm (in)
3200 (125.9)
Z axis travel
mm (in)
1000 (39.3)
W axis travel
mm (in)
1200 (47.2)
Distance between columns
mm (in)
2600 (102.3)
Table dimension (X direction)
mm (in)
4000 (157.5)
5000 (196.9)
6000 (236.2)
7000 (275.5)
Table dimension (Y direction)
mm (in)
2000 (78.7)
Table loading
kg (lb)
15000 (33069)
18000 (39683)
20000 (44092)
22000 (48502)
Spindle motor power
kW (HP)
22/26 (30/35)
Spindle speed
rpm
10-6000
Spindle taper
BT#50
Rapid feedrate - X axis
mm(in)/min
18000 (708.6)
12500 (492.1)
9000 (354.3)
6000 (236.2)
Rapid feedrate - Y axis
mm(in)/min
14000 (551.1)
Rapid feedrate - Z axis
mm(in)/min
12000 (472.4)
Rapid feedrate - W axis
mm(in)/min
3000 (118.1)
Cutting federate
mm(in)/min
1-12000 (0.04-472.4)
1-9000 (0.04-354.3)
1-6000 (0.04-236.2)
Capacity of tool magazine
pcs
60
Max. diameter of tool / Adjacent pocket empty
mm (in)
127(5)/215(8.46)
Max. length of tool
mm (in)
400 (15.7)
Max. weight of tool
kg (lb)
20 (44)
Positioning accuracy (JIS 6338)
mm (in)
±0.015(0.000591)/ full travel
Positioning accuracy (VDI/DGQ 3441)
mm (in)
P=0.025(0.000984)/full travel
P=0.025(0.000984)/full travel
P=0.030(0.001181)/full travel
P=0.035(0.001378)/full travel
Repeatibility accuracy (JIS 6338)
mm (in)
±0.003(0.000118)
Repeatibility accuracy (VDI/DGQ 3441)
mm (in)
Ps=0.020(0.000787)
Ps=0.020(0.000787)
Ps=0.025(0.000984)
Ps=0.028(0.001102)
Length of the machine
mm (in)
10590 (416.9)
12660 (498.4)
14750 (580.7)
17250 (679.1)
Width of the machine
mm (in)
8430 (331.8)
Height of the machine
mm (in)
6750(265.7)
Weight of the machine
kg (lb)
---
Specification/ Machine model

Unit

MVB-439

MVB-539

MVB-639

MVB-739

MVB-839

MVB-1039

X axis travel
mm (in)
4060 (159.8)
5060 (199.2)
6060 (238.6)
7060 (277.9)
8060 (317.3)
10060 (396.1)
Y axis travel
mm (in)
3900 (153.5)
Z axis travel
mm (in)
1000 (39.4)
W axis travel
mm (in)
1200 (47.2)
Distance between columns
mm (in)
3300 (129.9)
Table dimension (X direction)
mm (in)
4000 (157.5)
5000 (196.9)
6000 (236.2)
7000 (275.5)
8000 (315)
10000 (393.7)
Table dimension (Y direction)
mm (in)
2400 (94.5)
2500 (98.4)
Table loading
kg (lb)
15000 (33069)
18000 (39683)
20000 (44092)
22000 (48502)
25000 (55115)
25000 (55116)
Spindle motor power
kW (HP)
22/26 (30/35)
Spindle speed
rpm
10-6000
Spindle taper
BT#50
Rapid feedrate - X axis
mm(in)/min
18000 (708.6)
12500 (492.1)
9000 (354.3)
6000 (236.2)
5000 (196.8)
4000 (157.4)
Rapid feedrate - Y axis
mm(in)/min
12000 (472.4)
Rapid feedrate - Z axis
mm(in)/min
12000 (472.4)
Rapid feedrate - W axis
mm(in)/min
3000 (118.1)
Cutting federate
mm(in)/min
1-12000 (0.04-472.4)
1-9000 (0.04-354.3)
1-6000 (0.04-236.2)
1-5000 (0.04-196.8)
1-4000 (0.04-157.4)
Capacity of tool magazine
pcs
60
Max. diameter of tool / Adjacent pocket empty
mm (in)
127(5)/215(8.46)
Max. length of tool
mm (in)
400 (15.7)
Max. weight of tool
kg (lb)
20 (44)
Positioning accuracy (JIS 6338)
mm (in)
±0.015(0.000591)/ full travel
Positioning accuracy (VDI/DGQ 3441)
mm (in)
P=0.025(0.000984)/full travel
P=0.025(0.000984)/full travel
P=0.030(0.001181)/full travel
P=0.035(0.001378)/full travel
P=0.035(0.001378)/full travel
P=0.045(0.001772)/full travel
Repeatibility accuracy (JIS 6338)
mm (in)
±0.003(0.000118)
Repeatibility accuracy (VDI/DGQ 3441)
mm (in)
Ps=0.020(0.000787)
Ps=0.020(0.000787)
Ps=0.025(0.000984)
Ps=0.028(0.001102)
Ps=0.028(0.001102)
Ps=0.032(0.00126)
Length of the machine
mm (in)
10590 (416.9)
12660 (498.4)
14750 (580.7)
17250 (679.1)
20000 (787.4)
23070 (908.2)
Width of the machine
mm (in)
9130 (359.4)
Height of the machine
mm (in)
6750 (265.7)