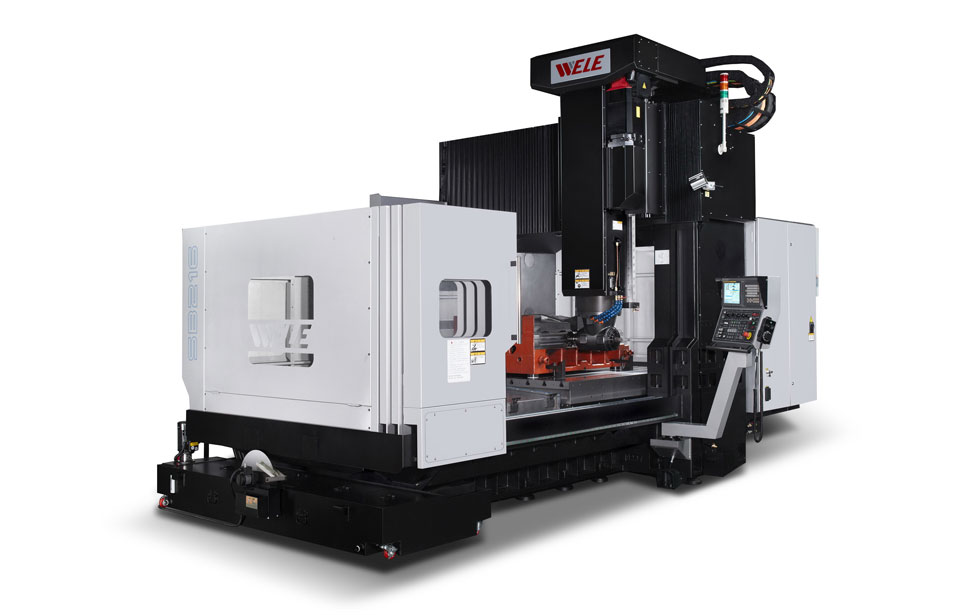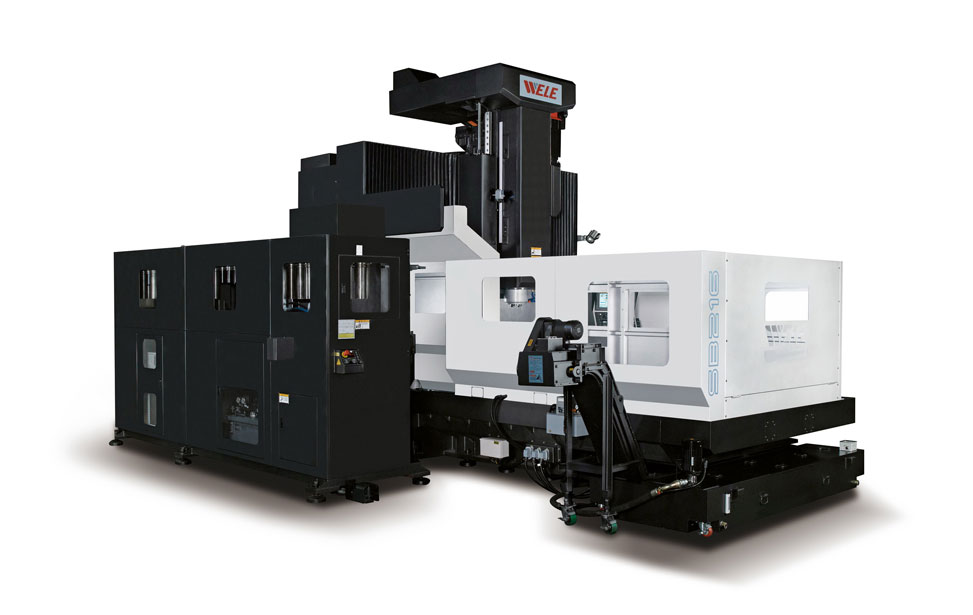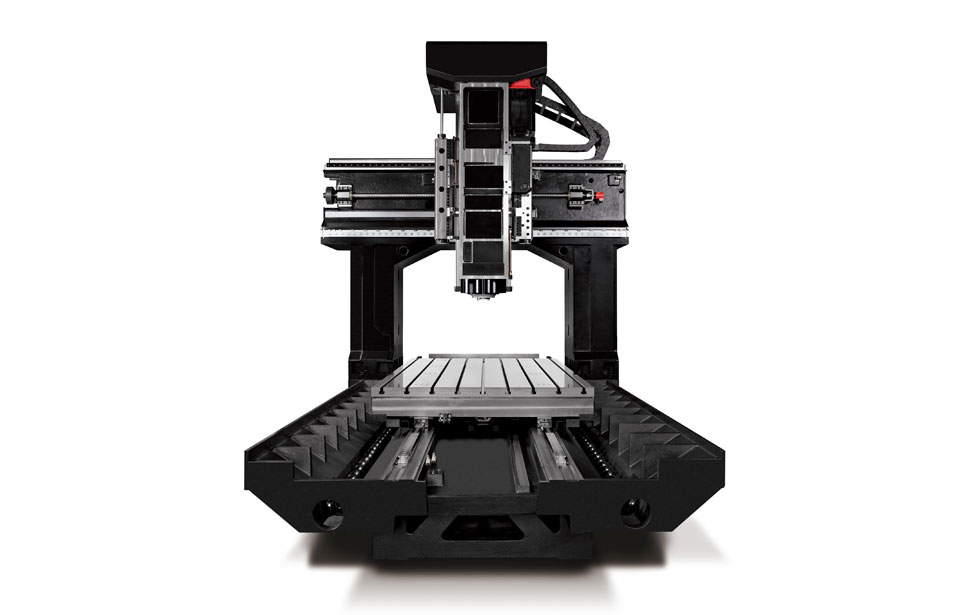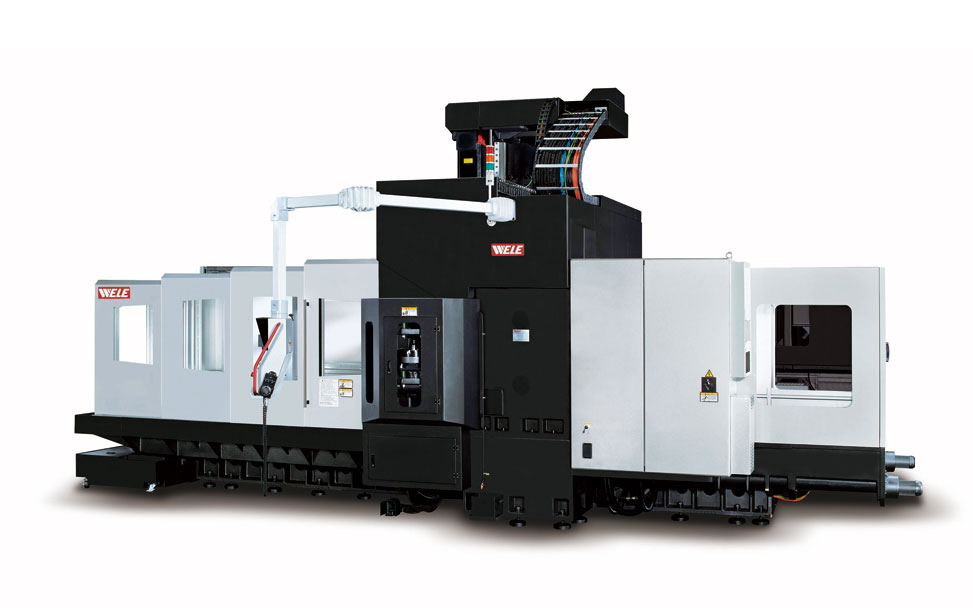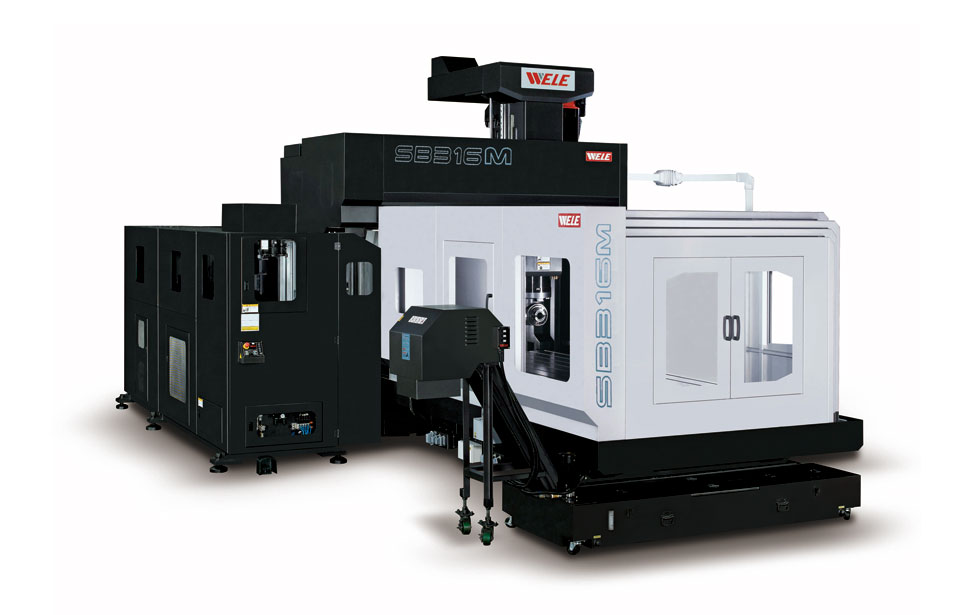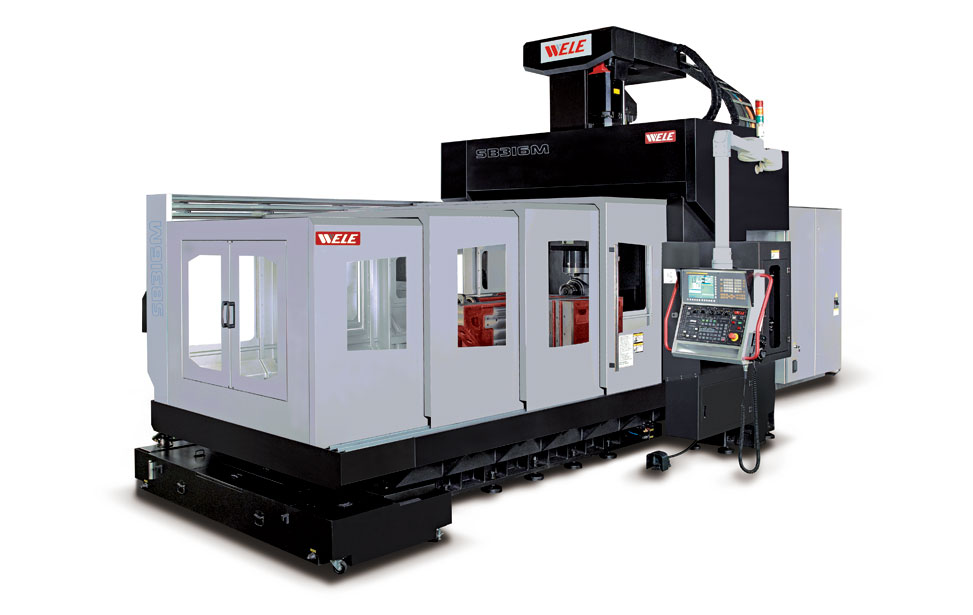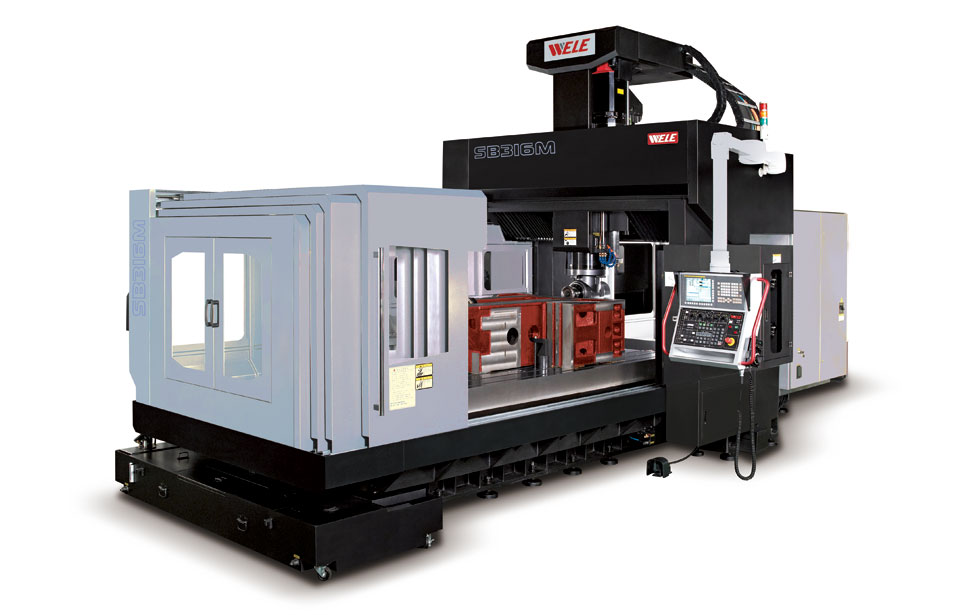 SB Series
Bridge Type Machining Center
The most economical equipment for 3 axes machining on this field.
Economical multi-head exchange & storage with tool exchange function automatically upgrade to 5 sides function optional available on this series (M type).
5 sides work coordinate plane convert system auto attach with this optional function.
Bridge casting made in one piece.
Specification / Machine model
Unit
SB-216
SB-316
SB-416
SB-516
SB-616
X axis travel
mm (in)
2120 (83.5)
3060 (120.5)
4060 (159.8)
5060 (199.2)
6060 (238.5)
Y axis travel
mm (in)
1600 (63)
Z axis travel
mm (in)
800 (31.4)
Distance between columns
mm (in)
1700 (66.9)
Table dimension (X direction)
mm (in)
2000 (78.7)
3000 (118.1)
4000 (157.5)
5000 (196.8)
6000 (236.2)
Table dimension (Y direction)
mm (in)
1500 (59.1)
Table loading
kg (lb)
8000 (17637)
10000 (22046)
12000 (26455)
14000 (30864)
16000 (35273)
Spindle motor power
kW (HP)
22/26 (30/35)
Spindle speed
rpm
10-6000
Spindle taper
BT#50(ISO 50)
Rapid feedrate - X axis
mm(in)/min
24000 (944.9)
20000 (787.4)
15000 (590.5)
12000 (472.4)
Rapid feedrate - Y axis
mm(in)/min
24000 (944.9)
Rapid feedrate - Z axis
mm(in)/min
15000 (590.6)
Cutting federate
mm(in)/min
1-15000 (0.04-590.6)
1-12000 (0.04-472.4)
Capacity of tool magazine
pcs
32
Max. tool diameter / Adjacent pocket empty
mm (in)
127/215 (5.0/8.5)
Max. tool length
mm (in)
400 (15.7)
Max. tool weight
kg (lb)
20 (44)
Positioning accuracy (JIS 6338)
mm (in)
±0.015 (±0.004)
Positioning accuracy (VDI/DGQ 3441)
mm (in)
P≦0.016(0.00063)
P≦0.019(0.000748)
P≦0.025(0.000984)
P≦0.032(0.00126)
P≦0.040(0.001575)
Repeatibility accuracy (JIS 6338)
mm (in)
±0.003 (0.0001)
Repeatibility accuracy (VDI/DGQ 3441)
mm (in)
Ps≦0.013(0.000512)
Ps≦0.015(0.000591)
Ps≦0.020(0.000787)
Ps≦0.025(0.000984)
Ps≦0.030(0.001181)
Length of the machine
mm (in)
5900 (232.2)
8300 (326.7)
10200 (401.5)
12500 (492.1)
---
Width of the machine
mm (in)
4650(183.1)
Height of the machine
mm (in)
5250(206.6)
Weight of the machine
kg (lb)
22000 (48502)
27000 (59525)
29000 (63934)
26000 (57320)
---
Specification/ Machine model
Unit
SB-216Y
SB-316Y
SB-416Y
SB-516Y
SB-616Y
X axis travel
mm (in)
2120 (83.5)
3060 (120.5)
4060 (159.8)
5060 (199.2)
6060 (238.5)
Y axis travel
mm (in)
2300 (90.5)
Z axis travel
mm (in)
800 (31.4)
Distance between columns
mm (in)
1700 (66.9)
Table dimension (X direction)
mm (in)
2000 (78.7)
3000 (118.1)
4000 (157.5)
5000 (196.8)
6000 (236.2)
Table dimension (Y direction)
mm (in)
1500 (59.1)
Table loading
kg (lb)
8000 (17637)
10000 (22046)
12000 (26455)
14000 (30864)
16000 (35273)
Spindle motor power
kW (HP)
22/26 (30/35)
Spindle speed
rpm
10-6000
Spindle taper
BT#50(ISO 50)
Rapid feedrate - X axis
mm(in)/min
24000 (944.9)
20000 (787.4)
15000 (590.5)
12000 (472.4)
Rapid feedrate - Y axis
mm(in)/min
20000(787.4)
Rapid feedrate - Z axis
mm(in)/min
15000 (590.6)
Cutting federate
mm(in)/min
1-15000 (0.04-393.7)
1-12000 (0.04-472.4)
Capacity of tool magazine
pcs
32
Max. tool diameter / Adjacent pocket empty
mm (in)
127/215 (5.0/8.5)
Max. tool length
mm (in)
400 (15.7)
Max. tool weight
kg (lb)
20 (44)
Positioning accuracy (JIS 6338)
mm (in)
±0.015 (±0.004)
Positioning accuracy (VDI/DGQ 3441)
mm (in)
P≦0.016(0.00063)
P≦0.019(0.000748)
P≦0.025(0.000984)
P≦0.032(0.00126)
P≦0.040(0.001575)
Repeatibility accuracy (JIS 6338)
mm (in)
±0.003 (0.0001)
Repeatibility accuracy (VDI/DGQ 3441)
mm (in)
Ps≦0.013(0.000512)
Ps≦0.015(0.000591)
Ps≦0.020(0.000787)
Ps≦0.025(0.000984)
Ps≦0.030(0.001181)
Length of the machine
mm (in)
5900 (232.3)
8300 (326.7)
10200 (401.5)
12500 (492.1)
---
Width of the machine
mm (in)
5500(216.5)
Height of the machine
mm (in)
5250(206.6)
Weight of the machine
kg (lb)
23000 (50706)
28000 (61729)
30000 (66138)
27000(59524)
---